Thursday, 02 July 2015 01:49

The Church Music Association of America is pleased to announce the first Winter Sacred Music Workshop for Chant and Polyphony. This five-day workshop offers participants the opportunity to study chant and polyphony with outstanding directors Scott Turkington and Wilko Brouwers.
Experience the beautiful liturgies of Epiphany (January 6) and a Votive Mass for the Holy Name of Jesus (January 8) at St. Mary's Seminary Chapel. Both liturgies will be celebrated in the Ordinary form and will combine the lovely sacred music from chant and polyphonic traditions.
Experience Morning and Night prayer, training in chant and polyphony, and shared meals with fellow musicians in the sunny Texas city of Houston. The Texans have promised to provide hospitality and beautiful weather for our visit.
Chant Courses
When you come to the Winter Sacred Music program, you will need to choose a chant choir for your participation during the week. There are few joys greater than singing in a well-prepared Gregorian chant choir. Although there is always a little tweaking after the first day, i.e. singers moving up or down a level, most people find it relatively easy to choose.
Many returning attendees to the CMAA events find themselves advancing from a fundamentals/refresher choir to the advanced. Some attendees may choose to attend a fundamentals/refresher course in order to learn teaching techniques for beginners from the conductors, even though their level of chant singing is on a higher level than most attending a fundamentals/refresher course.
Each participant should choose one of the chant courses:
Fundamentals and Refresher Course for Men and Women (Director, Scott Turkington) This course in Gregorian chant is intended for chant beginners or for those with some background in chant, but without the opportunity to sing it on a regular basis. Participants will learn how to read the four line staff, the names of the neumes, and how to navigate the intervals with solfege. Rhythm will be introduced. This group will sing the Mass ordinaries, as well as some of the less difficult Mass propers for the liturgies.
Intermediate to Advanced Course for Men and Women (Director, Wilko Brouwers) This course is intended for intermediate or advanced singers who sing chant regularly. The bulk of the more difficult Chanted Mass Propers for the liturgies will be sung by this choir, as well as the chanted Mass ordinaries.
Polyphony Courses
Being part of a polyphonic choir is one of the many highlights of the CMAA events. Note that there is no sign-up or pre-registration for either of the choirs. Simply arrive at the rehearsal of your choice on Monday. If the conductors find they have too many sopranos or too few tenors, for example, a little shifting around may occur from choir to choir on the first day.
But as a matter of good choir etiquette, conductors ask that you not bounce from choir to choir. Five days of rehearsal is not much time to develop an ensemble sound, and the deadlines of performing in liturgy loom delightfully throughout the week.
Each participant should choose one of the polyphony courses:
Beginner/Intermediate Motets (Director, Wilko Brouwers)
This choir is designed to introduce and improve on the critical vocal and musical techniques necessary for singing polyphonic music. Singers will learn how to carry a part on their own, independent of other sections, and without accompaniment. Members of this choir will learn rhythm, pitch, and vocal production. The choir is designed for novice to intermediate singers who would not yet benefit from the more advanced choir, but it might also be useful for directors who wish to see how a master goes about teaching less-experienced singers to make beautiful music. Repertory information to be forthcoming.
Intermediate/Advanced Polyphony (Director, Scott Turkington)
Because of the larger amount of repertory this choir will sing, it is recommended that intermediate to advanced choral singers with more experience in singing unaccompanied pieces choose this choir. Repertory information to be forthcoming.
Breakout Sessions
Information Forthcoming
Useful Links
Winter Sacred Music 2016 Schedule (preliminary)
Repertory (forthcoming)
Conference Hotel
Registration Form
Online Registration and Payment
St. Mary's Seminary Website
Instructions for Priests, Deacons and Seminarians (forthcoming)
Suitability Form for Priests (forthcoming)
Suitability Form for Deacons (forthcoming)
Winter Sacred Music will begin at 1:00 pm on Monday afternoon, January 4th, and will conclude on Friday, January 8th, with the closing Mass at 11:30 in the Seminary Chapel.
Registration Information
Mail-in and online registration can be completed now. To To register by mail and pay by check, complete the registration form and mail to CMAA, PO Box 4344, Roswell, NM 88202. The discount code for members has been sent to our member list by email. Please contact Janet Gorbitz or call 505-263-6298 for questions about your member discount code if you have not received it.
Tuition includes all sessions and materials as well as meals as described in the schedule. You will receive all course materials including the Parish Book of Chant upon arrival. The week's events will culminate with Mass at the Seminary Chapel at 11:30 a.m.
Early Registration (deadline: November 14, 2015) for CMAA members is $325, including nonrefundable deposit of $75. Non-member price is $375. Payment must be made in full by November 14 to receive this rate.
Regular Registration (deadline: December 15, 2015) for CMAA members is $375, including nonrefundable deposit of $75. Non-member price is $425. Payment must be made in full by December 15th to receive this rate.
Space is limited for this course, but late registrations will be accepted if space is available after 12/15/15. The late registration fee is $50.
HOTEL ACCOMMODATIONS are available at the Sheraton Suites Houston near The Galleria (2400 West Loop South, Houston, TX 77027, (713) 586-5187). Rooms are available at the special conference price of $119 per room per night, plus tax, for single or double rooms, up to occupancy of four per room. Make your reservation before December 14th, 2015 to get the special group rate. Please mention "Winter Sacred Music Conference" if calling the hotel directly to make reservations.
Amenities include free internet in all guest rooms and self parking at $7 per day (discounted from $16/day). The property includes a fitness center, full service restaurant, bar, and complimentary shuttle service within a 3-mile radius. This hotel is 3.7 miles from the Seminary, so guests should plan to make other arrangements for transportation to and from the course at St. Mary's each day. The hotel shuttle can provide transportation to local area shopping centers and restaurants.
To register for hotel accommodations at this special rate, mention "Winter Sacred Music Conference" when making your reservation. Link to hotel reservation page.
An early departure fee of $59.50 will apply if a customer checks out prior to the confirmed checkout date. The hotel is smoke-free (the hotel will post a $250 cleaning fee to the account of any guests who smoke in their guest room).
Cancellations
Requests received in writing at the CMAA Office (by mail or email) by December 15th will receive a refund less the nonrefundable $75 deposit. Refunds will be processed after the Winter Sacred Music course has concluded. Any requests for cancellation after December 15th will only be processed if a replacement from the waiting list is able to take your place. We expect this course to fill quickly, so don't delay.
Faculty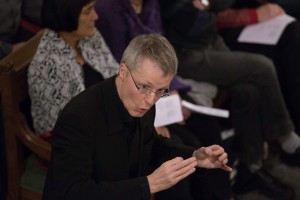 Wilko Brouwers of the Netherlands joins us this year for Winter Sacred Music. He has taught both chant and polyphony at the CMAA Colloquia since 2004 and has developed a loyal following among CMAA program attendees. We are indeed fortunate that his schedule will allow him to also teach this course.
Wilko Brouwers has conducted the Monteverdi Kamerkoor Utrecht since 1989 and the Strijps Kamerkoor Eindhoven since 2004. He is also currently the director of the Gregorian Schola of St. Benedictus Abbey in Achel, Belgium, a post he has held for the last eight years. His original compositions have been published and recorded.
As a music educator, Wilko Brouwers teaches choral conducting at the Utrecht Art Center in the Netherlands. Internationally, he has taught workshops on Gregorian chant in Auburn, Alabama, Still River, Massachusetts, and Pamplona, Spain. Brouwers is the author of Stepping Tones, a method of sight reading for elementary schools and children's choirs based on the Ward Method. His Words with Wings: Gregorian Chant for Children in Twenty Lessons has been published by the Church Music Association of America, with both student and teacher's workbooks and demonstration CDs. Brouwers also writes on chant, music education, vocal training, and choral repertoire for a number of Dutch and European music journals.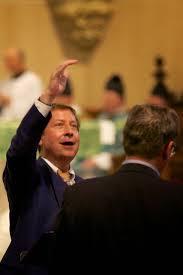 Scott Turkington, of Holy Family Church and Holy Family Academy in Minneapolis, MN, joins us for Winter Sacred Music.
Prior to joining the staff at Holy Family in 2013, Turkington served as principal organist and choirmaster of the Roman Catholic Cathedral of St. John the Baptist in Charleston, SC. Until 2010, he served as organist and choirmaster for the Roman Catholic Basilica of Saint John the Evangelist in Stamford, Connecticut, where he conducted a choir in a program of weekly polyphonic Mass settings and Gregorian chant. Before accepting the position at St. John's in 1998, he was Assistant Organist and Conductor at the National Shrine of the Immaculate Conception in Washington, D.C. While at the National Shrine, he played for over 500 services each year, and appeared on live national television dozens of times.
He has been the director of the annual workshop in sacred music sponsored by the St. Cecilia Schola Cantorum. He has been Music Director at the Church of the Covenant in Boston; Music Teacher and Organist at St. Paul's Choir School in Harvard Square, under Theodore Marier. A native of Minneapolis, he studied music at the University of Minnesota, the Boston Conservatory of Music and The Catholic University of America. His former teachers include Heinrich Fleischer, Phillip Steinhaus, and George Faxon.
In frequent demand as an organ recitalist, he has played innumerable recitals in the Northeast, having made his New York debut at St. Patrick's Cathedral. He has performed for a national convention of the Organ Historical Society, and is a featured performer on the Organ Historical Society's compact disc, Organs of Baltimore. In 1994, his choir performed for Pope John Paul II at St. Peter's Basilica in Rome.
He is editor of A Gregorian Chant Masterclass by Theodore Marier, published by the Abbey of Regina Laudis in Bethlehem, Connecticut. This book and its companion CD feature the Stamford Schola Gregoriana and the nuns of Regina Laudis, both conducted by Turkington.