Saturday, 13 September 2014 16:14
Presenting Two Courses in One Venue:
2015 Winter Chant Intensive and "Sing the Mass," a Course for Priests, Deacons, and Seminarians, at the Cathedral of SS Simon and Jude in Phoenix, Arizona, January 5-8, 2015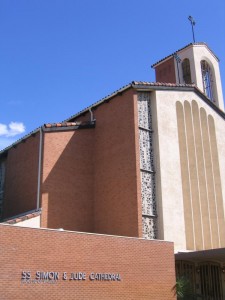 The Chant Intensive lives up to its name: though no previous experience with chant is required, beginners and intermediate chanters should be prepared for full immersion from the start. You will learn or review how to read and fully navigate all aspects of traditional Gregorian notation (square notes).
The course will also address correct Latin pronunciation, the sound and mystery of the eight Church modes, Psalm tones and their applications, questions concerning the rhythm of plainsong, and more.
The CMAA Winter Chant Intensive is intended for beginning and continuing students and all who love and appreciate the central role that chant plays as the prayerful song of the Roman Rite–not only at cathedrals and basilicas but in any parish. The conference will inspire and prepare participants to continue the renaissance of sacred music in our time, in both the ordinary and extraordinary forms of the Mass.
For the first time the Chant Intensive will be offered in two sections: Chant Intensive for Men and Women, taught by Jeffrey Morse, and "Sing the Mass," a separate course for priests, deacons, and seminarians with instructor Matthew J. Meloche.
Focused on teaching participants to read and navigate traditional Gregorian notation, including the sung dialogues, prayers, and Mass ordinaries of the Roman rite, "Sing the Mass" will give clergy and seminarians the skills they need to sing their parts with confidence and beauty in the course of the liturgies.
Later in the week we will look at the more challenging chants of the Roman Missal (the Exsultet, proclamations, etc.) as well as instruction on singing the Liturgy of the Hours for personal or communal prayer. This class presupposes no musical knowledge and will be taught in a language friendly to non-musicians.
All attendees will have the opportunity to hear the Cathedral Choir of Phoenix sing at the Tuesday Epiphany Mass at 6:30 p.m. Tuesday, January 6, with the Very Reverend Father John Lankeit (rector) celebrating the Mass.
The Cathedral Choir will sing polyphonic propers for the Epiphany from Byrd's Gradualia II, a polyphonic ordinary–Hassler's Missa Dixit Maria–and motets. This year's venue is the beautiful Cathedral of SS Simon and Jude in Phoenix, Arizona.
The intensive will begin on Monday afternoon, January 5, and conclude with an 11 a.m. chanted Mass in the ordinary form on Thursday, January 8. The sung Mass will include Mass XIII and the Gregorian propers for the week of the Solemnity of the Epiphany.