Ward Method Course – Summer 2016
Friday, 18 March 2016 05:00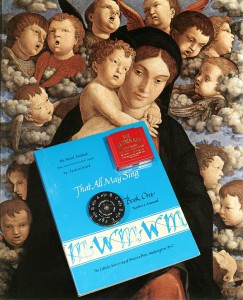 If you are on the CMAA email news list, you have probably read the descriptions of our summer course offerings. As mentioned in the Ward Method I – That All May Sing* description, this course was added to our program this year in the hope of providing another venue for learning dedicated to the training of children. Last year during the annual Colloquium, we offered several breakout sessions and panel discussions regarding music programs for children. In the follow-up survey, we received a big request for more information and training for directors working with children's music programs. Certainly the Ward method has been one of the most valued methods used for developing children's choirs for many years.
While we continue to focus on children's programs during this summer's Colloquium (which will include a demonstration of a Ward session by Colleen Crafton), we decided to also offer a beginning Ward course concurrent with our Summer Chant Intensive this summer.
Perhaps you have perused the CMAA's Summer Course descriptions and are wondering about the Ward Method. If you are looking for more detail about the method and why it is so powerful, please see our webpage about the Ward Method.
We hope you will help us to make this first CMAA Ward course a success and take the valuable information home to use on your own children's choirs. Join us in Pittsburgh this summer with Instructor Scott Turkington and get started. The course will be offered at Duquesne University in Pittsburgh, PA June 27 – July 1, 2016. Dormitory housing available. Get all the details about the course here: Summer Courses 2016.
* The CMAA Ward Course is not affiliated with the Center for Ward Studies and does not offer any official accreditation.