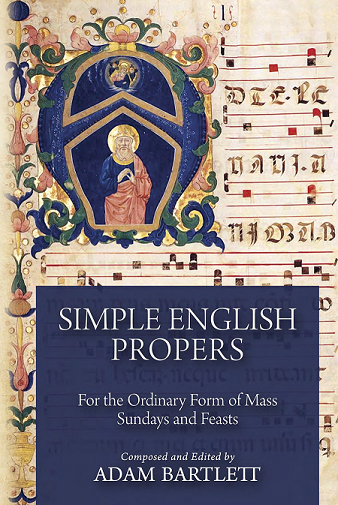 This is the home of Simple English Propers, a project and book by Adam Bartlett. This extraordinary book has been met with widespread acclaim for the beauty and versatility of the music, and also for being the first generally accessible book of chanted propers in English for every parish. It provides complete entrance, offertory, and communion propers in English with psalms in modal chant, with four-line notation, for Sundays and solemnities. They can be sung by a single cantor or a full choir. The modes from the Gregorian original are wholly preserved to capture the sound and feel of the Graduale Romanum proper chants. They follow a total of 24 chant formulas to make singing easy for any choir in any parish. The project is sponsored by the Church Music Association of America, and the book is also published by the CMAA.
The contents of this book may be downloaded, printed, used, and shared freely by all, as they are published under Creative Commons licensing.
Download the full book (PDF) or see the list of PDF booklets below for specific days and seasons.
Update (May 2015): We've reorganized our practice videos, so they're easier to find.
For more information, see articles about this project on our blog, The Chant Cafe.
Download the introduction to the book which contains a practical guide to singing the Simple English Propers.
Organ accompaniments by composer Ryan Dingess are now available. | Download Volume I | Volume II | Buy the accompaniment books at Lulu.com |
Extras

Compiled Booklets

Advent Season

Christmas Season

Lenten Season

Triduum

Easter Season

Ordinary Time

Feasts and Solemnities

Ritual Masses