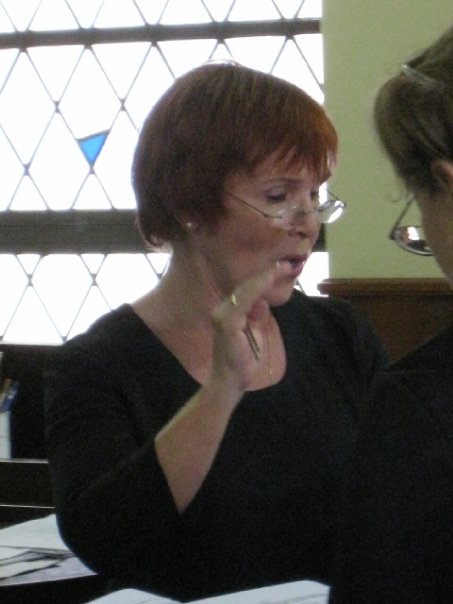 Mary Jane Ballou will be teaching the Foundations chant course for women at this year's Colloquium, doing what is dearest to her heart – bringing new singers into the marvelous world of Gregorian chant.
Dr. Mary Jane Ballou is currently the director of Cantorae St. Augustine, a women's schola that re-introduced chant and Renaissance polyphony into the Diocese of St. Augustine after a nearly forty-year hiatus. She studied piano and organ at the San Francisco Conservatory of Music with Marta Bracchi-Le Roux and Joy Crocker and early music with Laurette Goldberg. Dr. Ballou received her Doctorate in Sacred Music from the Graduate Theological Foundation, where she specialized in the music for the Latin Rite funeral rituals before and after the Second Vatican Council. Her article, "Setting the Stage: Liturgical Reform in the Mid-20th Century" was published in Foundation Theology 2013. She is also a regular contributor to Sacred Music journal on the practical aspects of schola training and management.
Mary Jane Ballou has studied Gregorian chant and semiology with Fr. Lawrence Heimann, C.PP.S., St. Joseph College, and Dom Daniel Saulnier, O.S.B. at the Abbey of St. Peter at Solesmes, France. In 2012 and 2014, she was a participant and recitalist in the Ninth and Tenth International Organ and Early Music Festivals in Oaxaca, Mexico. As the founder of the early music ensemble Alondra in St. Augustine, Florida, Dr. Ballou has researched and presented programs on the sacred and secular musical heritage of the first Spanish settlement in what became the United States of America. She is an accomplished performer on harp, organ, and salterio and produces a weekly classical music radio program that focuses on early music.
Dr. Ballou's choral conducting experience includes Lutheran, Anglican, Russian Orthodox, and Byzantine and Latin Rite choirs, as well as independent chamber ensembles. She specializes in a cappella sacred music and has consulted with pastors and choir directors wishing to implement chant and traditional polyphony in their parishes. Cantorae St. Augustine has assisted at both Ordinary and Extraordinary Form Masses and has presented Vespers in both Latin and English at the Shrine of La Leche in St. Augustine for over five years. Dr. Ballou has served on the faculties of the Summer Colloquium and the Chant Intensive of the Church Music Association of America and the Musica Sacra Florida annual Gregorian Chant conferences. Her training and experience combine the classical Solesmes method with insights from contemporary semiological studies. The goal is a fluent chant style that will engage modern worshippers with the Church's liturgy through the ages. Dr. Ballou is an experienced teacher of beginning and continuing singers of chant and is known for her engaging yet thorough style.
Register before June 4th to attend Colloquium XXIV (June 30 – July 6, 2014 in Indianapolis, IN).  If you have questions, please contact us.