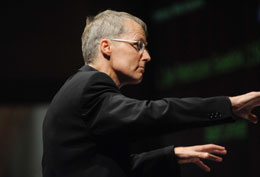 Wilko Brouwers of the Netherlands will conduct one of the polyphonic choirs at XXIV CMAA Summer Colloquium in Indianapolis, as well as present a conducting breakout session entitled "How Does the Maestro Move?" He has taught both chant and polyphony at the CMAA Colloquia since 2004. This year the central work of his choir will be the Manuel Cardoso Missa de beata virgine from the Golden Age of Portuguese Polyphony. There will also be motets by composers as diverse as Grieg and Wadsworth.
Wilko Brouwers has conducted the Monteverdi Kamerkoor Utrecht since 1989 and the Strijps Kamerkoor Eindhoven since 2004. He is also currently the director of the Gregorian Schola of St. Benedictus Abbey in Achel, Belgium, a post he has held for the last eight years. His original compositions have been published and recorded.
As a music educator, Wilko Brouwers teaches choral conducting at the Utrecht Art Center in the Netherlands. Internationally, he has taught workshops on Gregorian chant in Auburn, Alabama, Still River, Massachusetts, and Pamplona, Spain. Brouwers is the author of Stepping Tones, a method of sight reading for elementary schools and children's choirs based on the Ward Method. His Words with Wings: Gregorian Chant for Children in Twenty Lessons has been published by the Church Music Association of America, with both student and teacher's workbooks and demonstration CDs. Brouwers also writes on chant, music education, vocal training, and choral repertoire for a number of Dutch and European music journals.
For more information about CMAA's Colloquium XXIV, to be held in Indianapolis June 30-July 6, 2014, please visit our Colloquium webpage. If you have questions, please write to us.