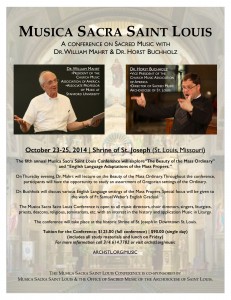 The fifth annual Musica Sacra St. Louis conference will explore "The Beauty of the Mass Ordinary" and "English Language Adaptations of the Mass Propers". Instructors include Dr. William Mahrt, Associate Professor of Music at Stanford University; and Dr. Horst Buchholz, Director of Sacred Music, Archdiocese of St. Louis.
The conference is open to all who have an interest in the history and application of music in the liturgy; music directors, choir directors, singers, liturgists, priests and deacons, religious, seminarians, etc.
For more information, click on the image, or grab the flyer, or read more at the Archdiocesan Office for Sacred Music, or call 314-614-7702.