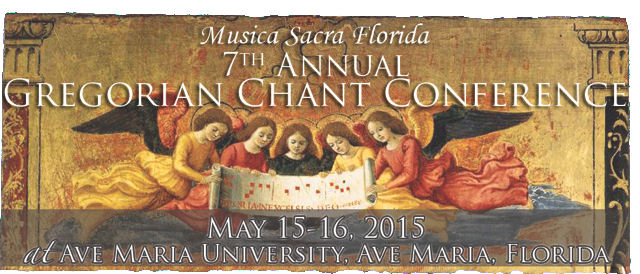 Musica Sacra Florida
7th Annual Gregorian Chant Conference
Friday, May 15 & Saturday, May 16, 2015
at Ave Maria University, Ave Maria, FL
The Florida chapter of the Church Music Association of America (CMAA) and the Ave Maria University Department of Music are pleased to announce our seventh annual conference in Gregorian Chant.
The conference will include:
Keynote Speaker:
Father James Bradley, Catholic priest of the Ordinariate of Our Lady of Walsingham (UK)
NEW:
Special day-long Saturday sacred music workshop for children (ages 9 to 18) with renowned clinician Michael Olbash, board member of the American Federation Pueri Cantores, the international Catholic choral organization for children (www.pcchoirs.org). Participating children are invited to chant chant in the closing Mass on Saturday, and are invited to serve as the principal choir for the 10:00 a.m. Mass at Ave Maria Oratory on Sunday, May 17.
Workshops
"A Guide to Square Notation": Basic instruction on how to read Gregorian chant notation
"Learning the Ancient Notations Online": Opportunity to a new software program to learn the notations of the oldest chant manuscripts (Laon and St. Gall)
"English Chant for Parish Cantors": Learn how to bring chant in English to your parish
Chant Choirs
Scholae
for beginning/intermediate (men & women); advanced men; advanced women
Masses
Opening Missa cantata in the Extraordinary Form on Friday evening
Closing Missa cantata in the Ordinary Form on Saturday evening (anticipated Sunday Mass) with English & Latin chants performed by conference participants
Registration
For more information on the conference, contact Susan Treacy, Ph.D., at: susan.treacy@avemaria.edu | (239) 280-1668
Conference Faculty
Keynote Speaker:
Father James Bradley, Ordinariate of Our Lady of Walsingham
Mary Jane Ballou, D.S.M., Director of Cantorae Saint Augustine
Michael Olbash, M.Mus., CAGO/ChM, Saint Adelaide Church, Peabody, Massachusetts
Edward Schaefer, D.M.A., University of Florida College of Fine Arts
Susan Treacy, Ph.D., Ave Maria University
For more information about the event, see the conference details page.