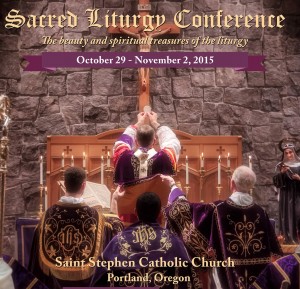 Sacred Liturgy Conference: The beauty and spiritual treasures of the liturgy
Saint Stephen Catholic Church and Schola Cantus Angelorum in Portland, Oregon are sponsoring a Sacred Liturgy Conference October 29 – November 2, 2015.
The conference will cover a wide range of topics ranging from The Bishop as Guarantor of the Liturgy, Papal Legislation on Sacred Music, Active Participation in the Eucharist, Monastic Life: Virtues and the Sacred Liturgy, Sacred Space and sacred Architecture and other topics. Don't miss the opportunity to hear from the outstanding faculty including:
Jesson Mata, Director, Office of Divine Worship
Rev. John J. Boyle, JCL
Rev. John Paul II, OSB
Rev. Paul Thomas, OSB, JCD
Rev. Eric Andersen, MA, STB
Lynne Bissonnette-Pitre, MD, PhD
Rev. Theodore Lange, STL
Francisco Romero, PhD
Indra Rustandi, PhD
The Most Reverend Alexander Sample, JCL, DD
Rev. Pius Harding, OSB
The Conference opens with a Votive Mass of the Most Holy Eucharist (OF) followed by one lecture and compline on Thursday evening, October 29th. On Friday, October 30th, participants will hear a full day of lectures, after which attendees will participate in a Votive Mass of Our Lord Jesus Christ, King (EF), followed by Compline. Saturday morning, October 31st begins with a Votive Mass of the Blessed Virgin Mary (OF), followed by more lecture sessions. The day concludes with Vespers of All Saints. On Sunday, Nov. 1st, participants can participate in Lauds and the Mass of All Saints (OF) with Archbishop Alexander Sample. On Monday, November 2nd, the conference will conclude with the Mass of All Souls (EF) in the evening.
To find out more specifics about the schedule, accommodations, and how to register for the conference, download this form . Online information is also available at: www.CantusAngelorum.org and www.archdpdx.org. For information by telephone, contact Marlina Natalia at (971) 220-2750. Don't delay; space is limited. Registrants will be accepted on a first-come, first-served basis.