The CMAA online shop is pleased to add two new titles to our offerings.
The Music of Christendom: A History, by Susan Treacy
Music plays such an important part in everyone's life but how much do we know about the history of music? How did music shape our civilization and how was music itself shaped by the Catholic Church? Susan Treacy, an experienced professor of music, is an excellent guide to the history of music. Every Catholic should own at least one book on music. This is it.
Susan Treacy is Professor of Music Emerita at Ave Maria University. She holds the Ph.D. in Historical Musicology from University of North Texas and B.Mus. and M.Mus. degrees from Oberlin Conservatory and the Manhattan School of Music. Besides scholarly articles, she writes a column, "Musica Donum Dei", for the Saint Austin Review (StAR), and has written A Plain and Easy Introduction to Gregorian chant (Cantica Nova Publications).
Published by the Augustine Institute | Ignatius Press 2021
ISBN: 9781950939213
180 pages, softcover
You can order it here: ORDER ONLINE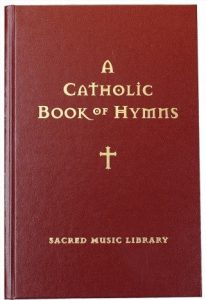 The Catholic Book of Hymns – Pew, hardcover
Nearly 300 classic, time-honored hymns your choir and congregation will love singing!
The hymn selections are musical, singable, truly sacred, theologically solid, and–for the most part–familiar, although you will also find some that are new to you. All 295 hymns use traditional hymn texts, not modern adaptations. This hymnal has been granted a nihil obstat and imprimatur, which mean the book is free from doctrinal error.
A Catholic Book of Hymns includes all you need for reverent, beautiful celebrations from Advent through Easter and the whole of ordinary time.
Download a list of all hymns here. Download sample pages here: SAMPLE PAGES
The 6- by 9-inch book fits easily into hymnbook racks on pews. This handsome book features Smyth-sewn binding, title stamped in gold foil, and a rich red simulated-leather cover that's waterproof and extremely durable.
No permission is required to publish these hymns in bulletins or music handouts or to use them for Masses that are videotaped or live-streamed.
Published by Sacred Music Library, Frog Music Press.
You can order it online here: ORDER ONLINE