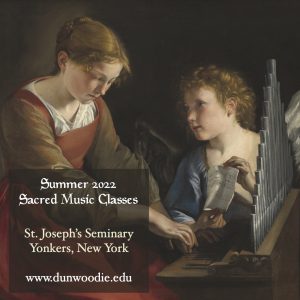 Graduate-level study structured for busy schedules
Online or in-person, intensive or term-length course formats
www.dunwoodie.edu/dunwoodie-music-classes
With affordable tuition rates and convenient course structures, St. Joseph's Seminary and College offers a rich learning experience for parish and school musicians who want to immerse themselves in the beauty, truth, and holiness of the Church's sacred music and liturgy.
Whether you're new to sacred music or have studied music at the graduate level, our courses will assist you in unlocking the treasury of Catholic sacred music, helping you grow in your spiritual life, amplifying your knowledge of and love for Christ and the Church's music, and strengthening the skills needed for faithful service in the Church.
Join us this summer to experience the depths of the Church's riches, taught by experienced teachers and musicians, faithful to the Church's magisterium and tradition.
Principles of Sacred Music
May 31–July 31 online asynchronous, August 1 and 2 in-person or synchronous online 9 a.m. to 5 p.m.
Instructor: Jennifer Donelson-Nowicka, 3 credits or audit
Parish Sacred Music Program Management
Monday and Wednesday evenings, June 1–June 27, synchronous online, 6:30–8:30 p.m.
Instructor: Jennifer Donelson-Nowicka, 1 credit or audit
Principles of Chant
July 5–9, in-person or synchronous online, 9 a.m. to 5 p.m.
Instructor: Jennifer Donelson-Nowicka, 3 credits or audit
Advanced Seminar in Gregorian Chant: Conducting (Chironomy)
July 11–15, in-person or synchronous online, 2 p.m. to 5 p.m.
Instructor: Jennifer Donelson-Nowicka, 1 credit or audit
Advanced Seminar in Gregorian Chant: Semiology and Manuscript Study
July 11–15, in-person or synchronous online, 9 a.m. to 12 p.m.
Instructor: Edward Schaefer, 1 credit or audit
Liturgical Year & Environment of Worship
July 18–22, in-person/synchronous, 9 a.m. to 5 p.m.
Instructor: Fr. Matthew Ernest, 3 credits or audit
Teaching Gregorian Chant to Children
July 18–22, in-person/synchronous, 9 a.m. to 5 p.m.
Instructor: Jennifer Donelson-Nowicka, 3 credits or audit
Choral Repertoire and Practicum: Parish Choirs
July 25–29, in-person recommended, online available, 9 a.m.–12 p.m., 1:30 p.m.–3:30 p.m.
Instructor: Jennifer Donelson-Nowicka, 2 credits or audit
Renaissance Choral Repertoire: History, Analysis, and Performance Practice for Parish Musicians
July 25–29, in-person or synchronous online, 6:00 p.m.–8:30 p.m.
Instructor: Charles Weaver, 1 credit or audit