CMAA SUMMER COURSES
June 15-19, 2020
University of Florida | Gainesville, Florida
UPDATE! Cancelled Due to the CoVid 19 (coronavirus) Pandemic
The CMAA is proud to present three summer courses for 2020. All courses will be held concurrently at the University of Florida (Gainesville) Music School.
Advanced Chant and Semiology, Dr. Edward Schaefer, Instructor
Laus in Ecclesia – Level One, Kathy Reinheimer, Instructor

Laus in Ecclesia – Level Two, (Clear Creek Abbey), Br. Mark Bachmann, Instructor

HELPFUL LINKS
Campus Map
ONLINE REGISTRATION
Course Schedule
CMAA Code of Conduct
Around Gainesville
Airport Shuttles and Transportation
ADVANCED CHANT AND SEMIOLOGY
Text, Melody, Mode, and Sign
An in-depth look at how these elements come together to create "the most beautiful melodies in the world."
Each day will consist of analyzing and singing melodies, understanding how their melodic and modal structures influence their rhythm AND how the semiological signs reinforce these rhythmic nuances.
There will also be specific training/exercises in the ancient signs of St. Gall and Laon.
This summer's course will be taught by instructor Dr. Edward Schaefer in one section including men and women.
 All materials required for the course will be provided.

Course Schedule
ONLINE REGISTRATION (Univ. of Florida – Gainesville)
LAUS IN ECCLESIA – LEVEL ONE OR TWO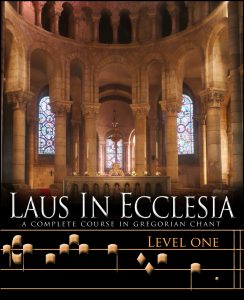 Laus in Ecclesia is a complete course in Gregorian chant in three (3) levels:
Level One: Beginners and members of a Gregorian choir
Level Two: More advanced, which could be described as what is necessary to sing in a schola and to sing the more elaborate chants (Graduale, Alleluia, Offertory).
Level Three: Perfecting the Gregorian skills to enable the student to direct a schola or group
This summer's courses will cover Level One  or Level Two. A book will be provided which contains all the course material. The subject matter covers theory and practice.
Theory: recognizing and naming the notes and the neums, rhythmic theory (Solesmes), Latin pronunciation, and finally, modality, all leading up to analysis of a chant.
Practice: Exercises in all theoretical areas mentioned: reading Gregorian notation, intervals, solfeggio, nomenclature of the neums, rhythmic exercises, pronunciation exercises, and rhythmic analysis.
LEVEL ONE
In the course of the week, the students will be taken through all 15 lessons of the manual Laus in Ecclesia, level One. Much of the material will be explained, alternated with exercises and examples. Ideally, the manual is meant to provide a whole course with homework assignments at the end of each lesson to be completed and submitted for correction, and an oral practical examination after finishing the course. As it is unlikely that the student will be able to complete all this during the week, these assignments can be completed during the year and an exam can be taken at the next scheduled course, or other arrangements can be made individually.
The book Laus in Ecclesia is the revised edition of the St. Gregoire Schola's manual. The previous five manuals which provided the teaching matter of the Schola are condensed into three levels with this revision. The first two levels have been published in France (the third is still in process). This course will include the use of the first level, which is newly published in English. This book provides color diagrams and illustrations to accompany the material. Also included is a CD which provides a model for solfeggio and rhythm exercises. These same tracks will also be available at the Laus in Ecclesia website.
This course will be taught by Kathy Reinheimer, of Reno, Nevada.
LEVEL TWO
This course will continue the work begun in Level One, working on more advanced chants and continuing to expand the singer's knowledge of chant and their capability to sing the more elaborate chants sung by a schola.
Br. Mark Bachmann, choirmaster for Clear Creek Monastery will teach this course, sharing his many years of experience with class participants.
FACULTY
Dr. Edward Schaefer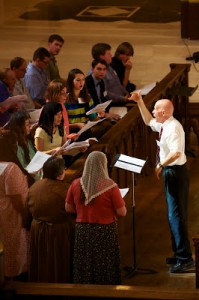 Edward Schaefer will be teaching the Advanced Chant course including Semiology.
Dr. Schaefer is professor of music and associate dean of the College of the Arts at the University of Florida (UF) in Gainesville, FL. He is also the director the Florida Schola Cantorum, a group of dedicated singers of chant and polyphony and a deacon for the Diocese of Orlando.
Dr. Schaefer's area of study focuses primarily on semiology, the study of ancient musical notation, and its impact on contemporary performance of chant. In addition, he is an advocate for the improvement of education through technology. Combining these two interests, he has taught online courses since 2001. Currently, he is teaching a professional development seminar to music professionals across the country on the subject of semiology. He is currently working with the Digital Worlds Institute at UF and L'École de Chant Grégorien du Choeur Grégorien de Paris to develop interactive software for the learning of the basic vocabulary and grammar of the notations of St-Gall and Laon.
Dr. Schaefer is the translator of Daniel Saulnier's Les Modes Grégoriens and Le Chant Grégorien, both published by Solesmes. He is also the author of Catholic Music Through the Ages, (Hillenbrand Books), and author/editor of Missa Cantata: A Notated Sacramentary, Evangélia Cantáta: A Notated Book of Gospels, and numerous articles on various aspects of sacred music.
Kathy Reinheimer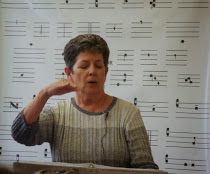 Kathy Reinheimer will teach Clear Creek Monastery's Laus in Ecclesia – Level One. This course is offered for the third time this summer and will use the Manual Laus in Ecclesia, Level One, revised and translated from the French edition.
From her earliest years in Catholic school, Kathy Reinheimer had a strong attraction to the sacred liturgy and to sacred music in particular.
A Cradle Catholic, and admitted "chant addict," Kathy attended 12 years of Catholic school at a time when students were thoroughly trained in the structure of the Mass, sang Gregorian chant, attended daily Mass and frequently provided music for funerals and special Masses. The Second Vatican Council was at its midpoint when she graduated from high school. This provided her with the opportunity to have a thorough understanding of the liturgy – both pre- and post-Conciliar.
Kathy's later affiliation with the Church Music Association of America (CMAA) provided solid training by a world class faculty in sacred music and liturgy. Instructors included Theodore Marier, Paul Salamunovich, Rev. Prof. Dr. Robert A. Skeris (Theology of Worship and Its Music), Prof. William Mahrt, Scott Turkington, Wilko Broewers and many others who generously shared their knowledge.
Through CMAA, she became interested in the "Laus in Ecclesia" program from Clear Creek Monastery. Kathy completed the Level One course and is looking forward to Level Two which is just being made available.
Her training and over 40 years of experience in directing sacred music have gained Kathy the reputation of being a fine director and teacher. She is highly respected among her musical peers.
Kathy currently directs Regina Pacis Cantorum (Queen of Peace Choir), a 501(c)(3) organization dedicated to the Immaculate Heart of Mary and to the preservation of the traditional music of the Roman Catholic Church. Regina Pacis sings by invitation at Masses throughout the Diocese of Reno and the Sierra Nevada community of Truckee, CA. Kathy also mentors Holy Spirit Mission Choir, a small group singing for the Tridentine Rite (Extraordinary Form) chapel, where she provides training in Gregorian chant.
Kathy recently retired after a professional career in Human Resource management. She and her husband, Bob, have been married for over fifty years.
Brother Mark Bachmann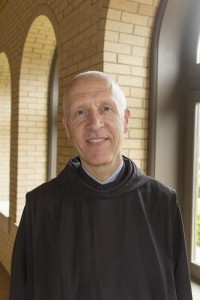 Br. Mark Bachmann will teach Clear Creek Monastery's Laus in Ecclesia – Level Two. This course is offered for the first time this summer. All materials will be provided for the course from the soon-to-be published Laus in Ecclesia – Level Two book, revised and translated from the French edition.
After earning a Bachelor's degree in liberal arts, Brother Mark Bachmann entered Fontgombault, a Benedictine monastery in France, where he was ordained a priest in 1991. He sang in the Fontgombault schola, after which he functioned as precentor at Gaussan for five years. He attained the 4th degree of the St. Gregoire schola.
Sent as one of the 13 founders of Clear Creek monastery in 1999, he has served as choirmaster at the monastery since 2009. He was on the CMAA faculty for the 2016 Colloquium in St. Louis, MO.
REGISTRATION INFORMATION
Registration fees are: $375 for the courses, which includes books and materials needed for the courses. A $50 discount is available to CMAA Members with the discount code applied. After May 15th, a $50 late fee will apply. Registration includes a $75 non-refundable deposit. Please indicate which of the three courses you will attend with your registration.
To register:  Choose one of our three chant courses offered this year:
Advanced Chant / Semiology
Laus in Ecclesia – Level One
Laus in Ecclesia – Level Two
(CMAA members) To secure your extra tuition discount ($50), apply the member coupon code at checkout time. You can find the code in your e-mail or contact the CMAA office for it. Are you a CMAA Member? If not, why not join CMAA today? Click this link.
MINORS
Please indicate on your registration if you are under 18 years of age and indicate the name of your parent who will accompany you for the course. All parents must be registered, either as a class participant or a parent companion.
DORMITORY LODGING AND CAMPUS INFORMATION
Dormitory lodging is available on the University of Florida – Gainesville campus within easy walking distance of the Music School. Participants will stay on campus in at the Yulee Residence Halls, traditional dorm style housing, with double rooms and a large bathroom on each floor. Men and women will be lodged on separate floors. This dormitory was chosen because of its proximity to the Music School.
You'll receive your room assignment and room key at registration with Conference Services. Upon checking in, please make sure the room key is compatible with the lock. If there are any issues, guests are encouraged to see the front desk immediately. You can access a campus map by visiting the University website here: Campus Map.
Your dormitory registration includes wifi service (login information to be provided to registered participants at registration).
Rooms are single or double occupancy. LINENS ARE NOT PROVIDED. Please plan to bring sheets, pillow, blankets, towels, etc. If you like to read before bedtime, bring a small book light for your convenience. Other items to bring: hangers, drinking cups, all toiletries (including blow dryer). All residence halls are air-conditioned. Dormitory housing details: Choose Single-or Double- dormitory room housing at the rate of $65/night (single) or $48/night (double), including wifi access. Select the dates of your stay from the options: M-Th (4 nights) – ($260 single, $192 double), M-Fr (5 nights) – ($325 single, $240 double), Su-Th (5 nights) – ($325 single, $240 double), Su-Fr (6 nights) – ($390 single, $288 double) . If you select a double room, please indicate the name of your roommate on the registration. If you do not have a roommate, we will attempt to assign one to you. However, if we are unable to assign a roommate, you will be responsible for the single rate, which will be collected from you prior to registration.
Parking on Campus
On-campus parking will be available to participants at a rate of $5/day. Please register for a parking pass on the Univ. of Florida Conference Department site if you need parking during your stay.
Dining Times and Locations
(information forthcoming)
HOTEL ACCOMMODATIONS
Hotel Accommodations are also available at the Holiday Inn Gainesville – University Center, 1250 W. University Ave., Gainesville, FL 32601: 1-352-376-1661. Rooms are available at the special conference price of $99 per room per night, plus tax, for single or double rooms. Make your reservation on or before May 25, 2020 to get the special group rate. Instructions:
When the booking screen opens, the guests will enter their dates (arrival and departure)
Then also select the More Options button to ensure the group code is listed (CMA).
Amenities include free internet in all guest rooms. This hotel is within easy walking distance of the University of Florida Music School.
CANCELLATIONS
Requests received in writing at the UF Conference Services Office (by mail or email) by May 15th will receive a refund less the nonrefundable $75 deposit. Refunds will be processed after the Summer courses have concluded. Any requests for cancellation after May 15th will only be processed if a replacement from the waiting list is able to take your place. Dormitory cancellations will be processed and refunded if the University approves the change. Parent companion registrations are not eligible for refund.
top of page
CODE OF CONDUCT
Please note that all participants are expected to adhere to the CMAA Code of Conduct.