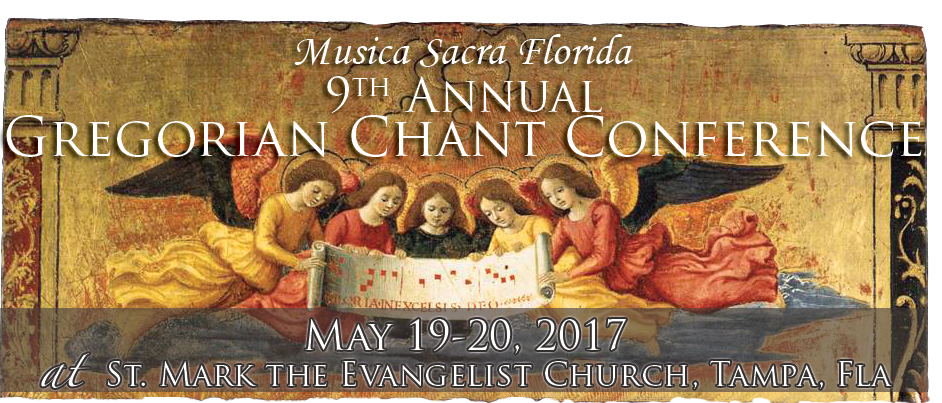 Musica Sacra Florida | 9th Annual Gregorian Chant Conference
Friday, May 19 & Saturday, May 20, 2017
at Saint Mark the Evangelist Church, Tampa, FL
The Florida Chapter of the Church Music Association of America (CMAA) is pleased to announce the 9th annual Musica Sacra Florida Gregorian Chant Conference.
For the second year in a row Musica Sacra Florida will be meeting at  Saint Mark the Evangelist Church in Tampa, which is centrally located within the state.
The Conference will include:
Keynote Lecture: Mary Jane Ballou, D.S.M. – Director of Cantorae Saint Augustine
"Sacred Music in the Secular Sphere: Can Beauty Lead to the Good and the True?"
Gregorian Chant has periodic surges of popularity on the classical music charts. Is there a way in which non-Catholics can find their way from an emotional and aesthetic appreciation to inquiry about its history and the environment that gave it birth?
For nearly ten years, Mary Jane Ballou has produced and hosted a weekly radio program on a college station that mixes Gregorian, Russian, and Anglican chant into programming of Renaissance song and dance music. The music of Gorecki, Pärt, MacMillan, and other contemporary composers is also included. Specific works are prefaced by a brief introduction of their text and compositional context.
In addition to a review of this specific format, Dr. Ballou will offer suggestions for options that will take our musical treasures outside the confines of the church building from flash mobs to internet and broadcast media. Courage, perseverance, and imagination can help us find ways to present our living heritage in a style of non-coercive invitation and evangelization. The presentation will also touch on the issue of historical beauty and present realities in church music.
Workshops
"Resources and Planning for a Parish Schola" (Edward Schaefer) – This workshop will take a look at what is available to assist music directors find music for scholae and choirs of various sizes and abilities.
"From Square Notes to Round Gestures: How to Conduct Gregorian Chant" (Susan Treacy) –In this workshop you will receive basic instruction on how to understand Gregorian chant rhythm and how to use chironomy, according to the classic Solesmes method. You will need to have a basic reading knowledge of Gregorian chant notation in order to gain the most from this workshop.
Chant Choirs
Scholae for beginning/intermediate (men & women), advanced men, advanced women
Masses
Opening Missa cantata in the Extraordinary Form on Friday evening, celebrated by Fr. Patrick Hough, S.J.
Closing Missa cantata in the Ordinary Form, in English, on Saturday evening (anticipated Sunday Mass) with English & Latin chants provided by conference participants
Registration
Register online at: Conference Details Page
Registration fees: $60.00 (including materials & instruction), $15.00 for full-time students (with ID) and children, $15.00 for Clergy.
Registration deadline: Friday, May 5th, 2017
For more information on the conference, contact Susan Treacy, Ph.D., at: cantatedomino@icloud.com | (239) 280-1668
Conference Faculty
Mary Jane Ballou, D.S.M. – Director of Cantorae Saint Augustine
Fr. Patrick Hough, S.J. – Jesuit High School, Tampa
Edward Schaefer, Ph.D. – University of Florida, Gainesville
Susan Treacy, Ph.D. – Ave Maria University
For more details about the conference, visit our CONFERENCE DETAILS PAGE