CMAA SUMMER COURSES
June 14-18, 2022
St. Mary's Parish | The Collegium | Hagerstown, Maryland
The CMAA is proud to present three summer courses for 2022. All courses will be held concurrently at the St. Mary's Parish in Hagerstown, Maryland.
NEW! Vocal Training Intensive, Dr. MeeAe Cecilia Nam, Instructor
Laus in Ecclesia – Level One, (Clear Creek Abbey), Kathy Reinheimer, Instructor

NEW! Laus in Ecclesia – Level Two, (Clear Creek Abbey), Br. Mark Bachmann, Instructor

UPDATE: REGISTRATION IS NOW CLOSED
SPECIAL NOTE
Liability Waiver
All participants are required to sign a Waiver of Liability Relating to Coronavirus / COVID-19.
The Church Music Association of America (CMAA), The Collegium, the Archdiocese of Baltimore, and St. Mary's Parish cannot prevent you from becoming exposed to, contracting, or spreading COVID-19 while attending CMAA events at the Collegium, St. Mary's or University of Maryland premises (Summer course premises). It is not possible to prevent against the presence of the disease. Therefore, if you choose to participate in CMAA programs and/or enter onto the premises, you may be exposing yourself to and/or increasing your risk of contracting or spreading COVID-19.
NOTE: If, at any time during the Summer Courses, you develop symptoms that could be Covid-19, or any type of communicable illness, we ask that you refrain from attending sessions, as a way to protect your fellow participants.
HELPFUL LINKS
ONLINE REGISTRATION
VOCAL TRAINING INTENSIVE
This multi-day course will be taught by Dr. MeeAe Cecilia Nam.
The workshop is for singers, teachers of singing, and choral directors. The course will cover the overview of the basic knowledge of the human voice as an instrument and provide practical training to learn and improve vocal and singing skills.
Each session will include a lecture/presentation of chosen topics and introduce helpful exercises to enhance understanding of the objectives and improve their vocal skills.
Participants are encouraged to demonstrate and speak of individual interests and questions during the Q & A session toward the end of each class or leave the instructor a written inquiry.
In addition, everyone will sing various musical examples to apply learned concepts and ideas. Musical examples can include motets, psalms, solo songs and hymns. Participants can also bring the music of their own interest.
All materials required for the course will be provided. Participants are strongly encouraged (not required) to bring along laptops or tablets for use during the course.

Detailed Course Schedule
ONLINE REGISTRATION
LAUS IN ECCLESIA – LEVEL ONE OR TWO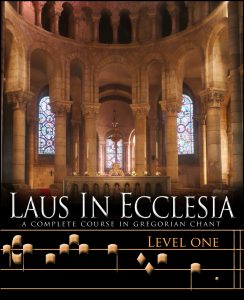 Laus in Ecclesia is a complete course in Gregorian chant in three (3) levels:
Level One: Beginners and members of a Gregorian choir
Level Two: More advanced, which could be described as what is necessary to sing in a schola and to sing the more elaborate chants (Graduale, Alleluia, Offertory).
Level Three: Perfecting the Gregorian skills to enable the student to direct a schola or group
This summer's courses will cover Level One or Level Two. A book will be provided which contains all the course material. The subject matter covers theory and practice.
Theory: recognizing and naming the notes and the neums, rhythmic theory (Solesmes), Latin pronunciation, and finally, modality, all leading up to analysis of a chant.
Practice: Exercises in all theoretical areas mentioned: reading Gregorian notation, intervals, solfeggio, nomenclature of the neums, rhythmic exercises, pronunciation exercises, and rhythmic analysis.
LEVEL ONE
Theory: recognizing and naming the notes and the neums, rhythmic theory (Solesmes), Latin pronunciation, and finally, modality, all leading up to analysis of a chant.
Practice: Exercises in all theoretical areas mentioned: reading Gregorian notation, intervals, solfeggio, nomenclature of the neums, rhythmic exercises, pronunciation exercises, and rhythmic analysis.
In the course of the week, the students will be taken through all 15 lessons of the manual Laus in Ecclesia, level One. Much of the material will be explained, alternated with exercises and examples. Ideally, the manual is meant to provide a whole course with homework assignments at the end of each lesson to be completed and submitted for correction, and an oral practical examination after finishing the course. As it is unlikely that the student will be able to complete all this during the week, these assignments can be completed during the year and an exam can be taken at the next scheduled course, or other arrangements can be made individually.
The book Laus in Ecclesia is the revised edition of the St. Gregoire Schola's manual. The previous five manuals which provided the teaching matter of the Schola are condensed into three levels with this revision. The first two levels have been published in France (the third is still in process). This course will include the use of the first level, which has been recently published in English. This book provides color diagrams and illustrations to accompany the material. Also included is a CD which provides a model for solfeggio and rhythm exercises. These same tracks will also be available at the Laus in Ecclesia website.
This course will be taught by Kathy Reinheimer, of Reno, Nevada.
LEVEL TWO
Theory: transposition of Gregorian melodies, exhaustive treatment of the psalm tones and liturgical formulas (ex. for the Gospel, readings, collects, etc.), hymnody, deepening of the notions of modality and verbal rhythm introduced in level one. Experienced musicians may want to omit the first day of instruction, which will cover only the mechanisms involved in transposing from Gregorian notation into modern music notation.
Practice: Exercises in all theoretical areas mentioned above in addition to sol-fa: transposition from Gregorian to modern notation, applying the various psalm tones and other liturgical formulas to text, modal analysis, rhythmic analysis of the text in its relation to the music.
This course continues the work on the basics begun in Level One, but on a higher level of difficulty. Completion of level one is normally requisite for level two, but exceptions can be considered: contact Br. Bachmann at guestmaster@clearcreekmonks.org for exceptions. Level two is aimed at the schola member in terms of difficulty, and at those interested in the celebration of the Divine Office in Latin in terms of content.
Those attending level two classes will need either a Graduale Romanum or a Liber Usualis or a Gregorian Missal.
Br. Mark Bachmann, choirmaster for Clear Creek Monastery will teach this course, sharing his many years of experience with class participants.
FACULTY
Dr. MeeAe Cecilia Nam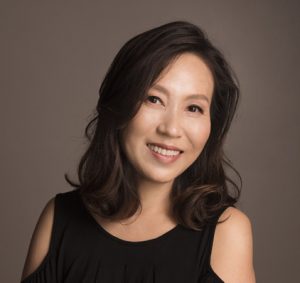 Dr. MeeAe Cecilia Nam will teach Vocal Training Intensive during the CMAA's summer course program.
Dr. MeeAe Cecilia Nam, soprano, has received the following praise: "…whose voice is the epitome of Mozartean elegance and lyricism…" (New York Concerts Review), "…sings easy, flawlessly and effortlessly expressive" (the German Passauer Presse). She has appeared as guest artist with numerous ensemble groups and festivals, such as the Colorado Symphony, Boulder Philharmonic, Colorado Summer Music Festival, the American Liszt Society, Boulder Bach Festival, Vianden International Music Festival, and the Concert Series of the Salzburg Summer Music Festival. Known for her musical versatility, sensitivity and genuine interpretation (the Denver Post), she has had a rich performance experience as a soloist in recitals, oratorios, sacred music, chamber and orchestral concerts, and stage works throughout the United States, Germany, Austria, and South Korea. With Dr. Horst Buchholz, organist and conductor, she has toured the U. S. and Europe with special recital programs of Sacred Music for Voice and Organ in the past 15 years.
She has performed and premiered music written for her, and participated in many artistic collaborations with current composers in their works, including Joseph Dorfman's one act opera Shulamith (Colorado premier), Voice of River Han by David Mullikin, David Kirtley's Haiku songs of Karigane, Tan Dun's Silkroad, and James Mobberly's Words of Love. Her performances of Georgy Kurtag's Kafka Fragmente have received the acclaim "…Challenging music….Nam soared through it brilliantly, but brought that necessary degree of dramatic involvement as well … it was first-rate.", by Colorado Rocky Mountain News.
In addition to her position as Professor of Voice at Eastern Michigan University, she has been on the faculty of the Church Music Association of America and at the Vianden International Summer Festival and School in Luxembourg. She has also been Guest Artist and Clinician at numerous institutions such as the Hochschule für Musik Hanns Eisler in Berlin, the Korean National University of Arts in Seoul, the Seoul National University of Education, University of Colorado in Boulder, and University of Tennessee in Knoxville, among many others.
Dr. Nam has developed a well-deserved reputation as an important scholar of the rare French song literature of Théodore Gouvy (1819-1898). She has also recorded a CD, Songs of Gouvy, for the Toccata Classics label. A few of the Gouvy songs have been previously recorded, but this is the first CD made of this important composer where the songs are performed in the original key in which they were written. Most of the songs on the CD have never been recorded.
She has published a critical edition of Gouvy's songs in two volumes with EC Schirmer in 2018. These two volumes are a unique and exclusive publication, and a valuable contribution to song literature. They are the result of her extensive scholarship and research in France, Germany, and the United States.
Kathy Reinheimer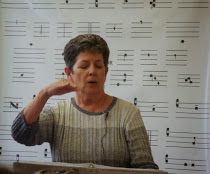 Kathy Reinheimer will teach Clear Creek Monastery's Laus in Ecclesia – Level One. This course is offered for the third time this summer and will use the Manual Laus in Ecclesia, Level One, revised and translated from the French edition.
From her earliest years in Catholic school, Kathy Reinheimer had a strong attraction to the sacred liturgy and to sacred music in particular.
A Cradle Catholic, and admitted "chant addict," Kathy attended 12 years of Catholic school at a time when students were thoroughly trained in the structure of the Mass, sang Gregorian chant, attended daily Mass and frequently provided music for funerals and special Masses. The Second Vatican Council was at its midpoint when she graduated from high school. This provided her with the opportunity to have a thorough understanding of the liturgy – both pre- and post-Conciliar.
Kathy's later affiliation with the Church Music Association of America (CMAA) provided solid training by a world class faculty in sacred music and liturgy. Instructors included Theodore Marier, Paul Salamunovich, Rev. Prof. Dr. Robert A. Skeris (Theology of Worship and Its Music), Prof. William Mahrt, Scott Turkington, Wilko Brouwers and many others who generously shared their knowledge.
Through CMAA, she became interested in the "Laus in Ecclesia" program from Clear Creek Monastery. Kathy completed the Level One course and is looking forward to Level Two which is just being made available.
Her training and over 40 years of experience in directing sacred music have gained Kathy the reputation of being a fine director and teacher. She is highly respected among her musical peers.
Kathy currently directs Regina Pacis Cantorum (Queen of Peace Choir), a 501(c)(3) organization dedicated to the Immaculate Heart of Mary and to the preservation of the traditional music of the Roman Catholic Church. Regina Pacis sings by invitation at Masses throughout the Diocese of Reno and the Sierra Nevada community of Truckee, CA. Kathy also mentors Holy Spirit Mission Choir, a small group singing for the Tridentine Rite (Extraordinary Form) chapel, where she provides training in Gregorian chant.
Kathy recently retired after a professional career in Human Resource management. She and her husband, Bob, have been married for over fifty years.
Brother Mark Bachmann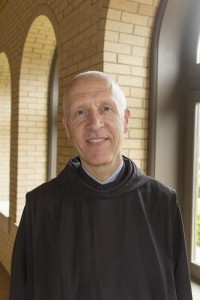 Br. Mark Bachmann will teach Clear Creek Monastery's Laus in Ecclesia – Level Two. This course is offered for the first time this summer. All materials will be provided for the course from the soon-to-be published Laus in Ecclesia – Level Two book, revised and translated from the French edition.
After earning a Bachelor's degree in liberal arts, Brother Mark Bachmann entered Fontgombault, a Benedictine monastery in France, where he was ordained a priest in 1991. He sang in the Fontgombault schola, after which he functioned as precentor at Gaussan for five years. He attained the 4th degree of the St. Gregoire schola.
Sent as one of the 13 founders of Clear Creek monastery in 1999, he has served as choirmaster at the monastery since 2009. He was on the CMAA faculty for the 2016 Colloquium in St. Louis, MO.
REGISTRATION INFORMATION
Registration fees are: $375 for the courses, which includes books and materials needed for the courses. A $50 discount is available to CMAA Members with the discount code applied. After May 15th, a $50 late fee will apply. Registration includes a $75 non-refundable deposit. Lunches will be provided Wednesday – Saturday. If you have special dietary needs, please register for "Special Meals" and send us an email at programs@musicasacra.com to indicate what those needs are. Please indicate which of the three courses you will attend with your registration.
To register: Choose one of our three courses offered this year:
Vocal Training Intensive
Laus in Ecclesia – Level One
Laus in Ecclesia – Level Two
(CMAA members) To secure your extra tuition discount ($50), apply the member coupon code at checkout time. Members can find the code in your e-mail announcement or contact the CMAA office for it.
REGISTER ONLINE NOW
Are you a CMAA Member? If not, why not join CMAA today? Click this link.
MINORS
We cannot allow minors to register for this summer's course. You must be 18 years of age or older by June 14, 2022.
HOTEL ACCOMMODATIONS
Hotel Accommodations are available at the Ramada Plaza Hagerstown, 1718 Underpass Way, Hagerstown, MD 21740, (301) 797-2500 at a special rate of $119/night. Next to the Ramada Plaza is also another hotel option: Holiday Inn Express & Suites, 241 Railway Ln., Hagerstown, MD 21740, (301) 745-5644. Rooms at the Holiday Inn Express are available at a special rate of $129/night. Make your reservation on or before Sunday, May 1, 2022 to get the special group rate (Don't delay in making your reservations! It is sports season in Hagerstown in June.).
PLEASE CALL RAMADA PLAZA HOTEL for Reservations at: (301) 797-2500.
PLEASE CALL HOLIDAY INN EXPRESS for Reservations at: (301) 745-5644.
Amenities include free internet in all guest rooms, as well as free hot breakfasts. These hotels are not within walking distance, so please plan to make arrangements for your local transportation.
CANCELLATIONS
Requests received in writing at the CMAA offices (by mail or email) by May 1st will receive a refund less the nonrefundable $75 deposit. Refunds may be processed after the Summer courses have concluded. Any requests for cancellation after May 1st may only receive a partial refund, due to non-refundable charges for meals, etc.
top of page
CODE OF CONDUCT
Please note that all participants are expected to adhere to the CMAA Code of Conduct.