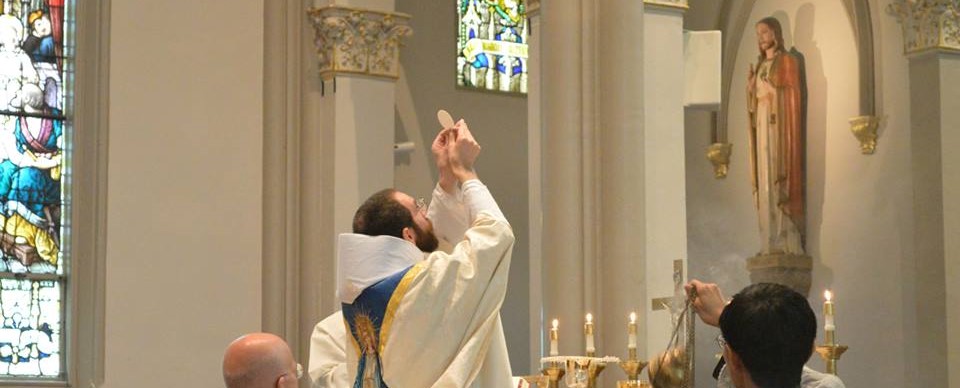 June 24-28, 2019
Duquesne University, Pittsburgh, PA
UPDATE: ONLINE REGISTRATION IS CLOSED.
The CMAA is proud to present two summer courses for 2019. Both courses will be held concurrently at the Mary Pappert Music School at Duquesne University.
Chant Intensive
Instructor Jeffrey Morse
A five-day practical experience for beginners and intermediate chant singers
Laus in Ecclesia
Instructor Br. Mark Bachmann, OSB, choirmaster at Clear Creek Abbey
An in-depth exploration for beginners, the first part of a three-level program to train chant singers and conductors
More details on both courses:
HELPFUL LINKS
Around Pittsburgh
Information about bus routes, fares and passes can be obtained at the port authority website.
Airport Shuttles and Transportation
Public transportation from the Pittsburgh airport is available. Click here for details. Alternatively, a twenty-five minute cab ride from the airport runs about $45. Many shuttle services are available. One of them is SuperShuttle, another is AirportShuttle.com.
CHANT INTENSIVE
The Chant Intensive lives up to its name: though no previous experience with chant is required, beginners and intermediate chanters should be prepared for full immersion from the start. You will learn or review how to read and fully navigate all aspects of traditional Gregorian notation (square notes), as well as an introduction to chironomy (directing chant) with a masterful teacher.
The course will also address correct Latin pronunciation, the sound and mystery of the eight Church modes, Psalm tones and their applications, questions concerning the rhythm of plainsong, and more. Lauds and Compline will be sung to allow participants to experience the beauty of a portion of the sung Divine Office. Gregorian repertoire will be used for Divine Office and Mass.
The CMAA Summer Chant Intensive is intended for beginning and continuing students and all who love and appreciate the central role that chant plays as the prayerful song of the Roman Rite–not only at cathedrals and basilicas but in any parish. The conference will inspire and prepare participants to continue the renaissance of sacred music in our time, in both the ordinary and extraordinary forms of the Mass. In the years since the first CMAA Chant Intensive course was taught in 2008, hundreds of students have benefited from this in-depth course in Gregorian chant.
This summer's course will be taught by instructor Jeffrey Morse in one section including men and women.
Recommended books:
Graduale Romanum (recommended)
Gregorian Missal (recommended)
Graduale Triplex (recommended)

Participants may bring their own copies of the recommended books to the course or may purchase them at the registration table before the start of the course (optional). All materials required for the course will be provided. Duquesne students taking the course for credit, please see the syllabus.

LAUS IN ECCLESIA – LEVEL ONE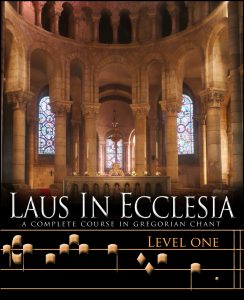 Laus in Ecclesia is a complete course in Gregorian chant in three (3) levels:
Level One: Beginners and members of a Gregorian choir
Level Two: More advanced, which could be described as what is necessary to sing in a schola and to sing the more elaborate chants (Graduale, Alleluia, Offertory).
Level Three: Perfecting the Gregorian skills to enable the student to direct a schola or group
This summer's course will cover only the Level One. A book will be provided which contains all the course material. The subject matter covers theory and practice.
Theory: recognizing and naming the notes and the neums, rhythmic theory (Solesmes), Latin pronunciation, and finally, modality, all leading up to analysis of a chant.
Practice: Exercises in all theoretical areas mentioned: reading Gregorian notation, intervals, solfeggio, nomenclature of the neums, rhythmic exercises, pronunciation exercises, and rhythmic analysis.
In the course of the week, the students will be taken through all 15 lessons of the manual Laus in Ecclesia, level One. Much of the material will be explained, alternated with exercises and examples. Ideally, the manual is meant to provide a whole course with homework assignments at the end of each lesson to be completed and submitted for correction, and an oral practical examination after finishing the course. As it is unlikely that the student will be able to complete all this during the week, these assignments can be completed during the year and an exam can be taken at the next scheduled course, or other arrangements can be made individually.
The book Laus in Ecclesia is the revised edition of the St. Gregoire Schola's manual. The previous five manuals which provided the teaching matter of the Schola are condensed into three levels with this revision. The first two levels have been published in France (the third is still in process). This course will include the use of the first level, which is newly published in English. This book provides color diagrams and illustrations to accompany the material. Also included is a CD which provides a model for solfeggio and rhythm exercises. These same tracks will also be available at the Laus in Ecclesia website (still in process, but planned for completion prior to the course in June).
Br. Mark Bachmann, choirmaster for Clear Creek Monastery will teach this course, sharing his many years of experience with class participants.
FACULTY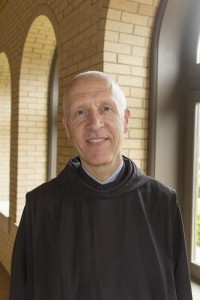 Br. Mark Bachmann will teach Clear Creek Monastery's Laus in Ecclesia – Level One. This course is offered for the second time this summer and will use the Manual Laus in Ecclesia, Level One, revised and translated from the French edition.
After earning a Bachelor's degree in liberal arts, Brother Mark Bachmann entered Fontgombault, a Benedictine monastery in France, where he was ordained a priest in 1991. He sang in the Fontgombault schola, after which he functioned as precentor at Gaussan for five years. He attained the 4th degree of the St. Gregoire schola.
Sent as one of the 13 founders of Clear Creek monastery in 1999, he has served as choirmaster at the monastery since 2009. He was on the CMAA faculty for the 2016 Colloquium in St. Louis, MO.
top of page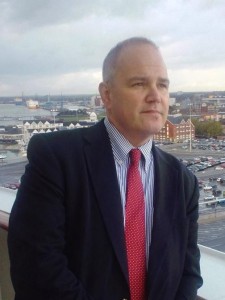 Jeffrey Morse will be teaching this summer's Chant Intensive course, bringing his wealth of experience to this summer's course participants.
Morse is a conductor, singer, and teacher of Gregorian Chant. A student of Dr. Mary Berry (Cambridge, UK) in Gregorian Chant and Gregorian Semiology. He also attended Sonoma State University and the Université François Rabelais de Tours (France). He was a student of Dr. Alise Brown at the University of N. Colorado in Ward Method, a method of teaching music, both modern and Gregorian notation and theory to school children. A native of Northern California, he however spent much of his formative years in England where he was exposed to the English choral tradition and especially the tradition of child choristers.
In 2002, he established in a small parish in California a flourishing child chorister program under the pedagogical direction of the Royal School of Church Music, proving that even ordinary parishes can musically benefit from this most ancient of Church traditions-the child chorister. In this program, the children were not only trained in Chant but also in singing the treble parts of the polyphony with the choir every Sunday and major feast. The fruits of this were not only beneficial for the singing of services at the parish, adding to the beauty and solemnity of the liturgies, but promises future fruits as well as already some of the original child-choristers have gone on to undergraduate and graduate studies in sacred music.
Mr. Morse is widely looked upon as a leader in the teaching of Gregorian Chant in the U.S and has given many workshops for adults and children in this matchless music of the Church. He is a regular Chant conductor and teacher at the annual Colloquium of the Church Music Association of America. Enthusiastic and missionary about this music, he has been called "disciplined in his approach, but fun and amusing, displaying a complete knowledge and understanding of his subject and its practice and use in the Church of the 21st century".
Registration Information – Mail-in
Mail-in and online registration can be completed now. To To register by mail and pay by check, complete the registration form for your desired course and mail to CMAA, 2014 Corn Dr., Las Cruces, NM 88001. The discount code for members has been sent to our member list by email. Please contact Janet Gorbitz or call 505-263-6298 for questions about your member discount code if you have not received it. If you wish to pay your registration fees in installments, please use the mail-in form. Please note that registration payment must be made in full by March 31st for Early rates or May 15th for regular registration rates.

Registration Form for Chant Intensive or Laus in Ecclesia
Tuition includes all sessions and supplemental materials as well as coffee breaks as described in the schedule. No meals are included in this tuition. All meals will be taken at the university dining hall. Payment is made at the entrance to the dining hall on a pay-as-you-go basis. Chant Intensive participants may bring their own copies of the recommended books to the course or may purchase them at the registration table before the start of the course (optional). Other needed materials will be provided. Laus in Ecclesia participants will receive course materials at registration. The week's events will culminate with Mass in the campus Chapel on Friday.
Early Registration (deadline: March 1, 2019) for CMAA Members is $300 (non-members $350); Regular Registration (deadline: May 15, 2019) for CMAA members is $350 (non-members $400), including nonrefundable deposit of $75. Payment must be made in full by March 1 for Early Registration or May 15th for Regular Registration to receive these rates. Member coupon code required for $50 discount.

Space is limited for the courses, but late registrations will be accepted if space is available after May 15, 2018. The late registration fee is $50.
top of page

COURSE CREDIT AT DUQUESNE
See the Duquesne University Summer Course offerings for information about taking these courses for credit. If you have questions about how to register through the university, please contact Dr. Ann Labounsky. For students taking the course for credit, CMAA tuition is waived. However, due to the limited number of spaces, please contact Janet Gorbitz at 505-263-6298 to reserve a spot before registering through Duquesne. See the summer course listing at Duquesne here: DUQUESNE SUMMER COURSES
top of page
DORMITORY LODGING AND CAMPUS INFORMATION
Dormitory lodging is available on the Duquesne University campus within easy walking distance of the Mary Pappert Music School. Participants will stay on the Duquesne campus in one of the dormitories (details forthcoming).  The entrance desk will be secured with round the clock desk staff and equipped with ID card access, so late arrivals are no problem. You'll receive your room assignment and room key at the front desk of the dormitory. Upon checking in, please make sure the room key is compatible with the lock. If there are any issues, guests are encouraged to see the front desk immediately. You can access a campus map by visiting the Duquesne University website here: Campus Map.
The dormitory offers free wifi (login information to be provided to registered participants by email).
Rooms are single or double occupancy. Linens will be provided, including sheets, one pillowcase, two bath towels, two washcloths, one pillow and one blanket. If you like to read before bedtime, bring a small book light for your convenience. Other items to bring: hangers, drinking cups, all toiletries (including blow dryer). Each wing features a kitchenette with full refrigerator, microwave and sink. Laundry machines are located within each wing – no charge to use! All residence halls are air-conditioned. The University is patrolled by sworn officers 24 hours a day, 7 days a week. You may register for a single- or double-occupancy room for your stay. Rates are $50/night for a single or $40/night for a double, including linens. If you request a double (shared) room, please email us at programs@musicasacra.com with the name of your preferred roommate. If you do not designate a roommate, we will assign one to you. If we are unable to assign a roommate to you, you will be responsible for the single rate.
On-campus parking is available in the Forbes Avenue Parking garage for all guests. The garage is covered and centrally located on campus. Guests may park in the garage on a cash basis or a parking permit may be established for their stay on campus. It is recommended that you park in the garage on cash basis when you arrive and then visit the parking office during regular office hours to purchase your parking pass for the week.
Parking Rates
Rates subject to change, printed rates are not guaranteed.
Weekday Parking: $12.00
Evening and Weekend Parking (after 5pm): $ 6.00
For any participants with mobility issues, there is handicapped parking available at Duquesne University around campus. You can find out where those parking spaces are located by visiting the Duquesne University website here. These spaces do require the purchase of a surface parking pass at the parking office. Rates are the same for surface parking passes as for parking garage passes. Guests must have a handicapped tag or plate to make use of these surface tags.
Dining Times and Locations
Cafeteria Style Meals:
Guests may dine in our dining facilities (location forthcoming) on a cash basis.
Dining Rates
Rates subject to change, printed rates are not guaranteed.
Breakfast (Served M-F, 7:30am-9:00am) – $7.25 per day
Lunch (Served M-F, 11:30am-1:00pm) – $9.60 per day
Dinner (Served Daily, 4:30pm-6:00pm) – $10.50 per day
Brunch (Served weekends, 11:30am-1:00pm) – $9.60 per day
Other Meal options
Sweet Sips Coffee Cafe
Coffee Cart – Locust Street
Monday – Friday
7:30 am – 5:00 pm
Saturday
7:30 am – 1:30 pm
Red Ring Restaurant
Forbes Avenue – Power Center
Monday – Thursday
11:30 am – 6:00 pm
Friday
11:30 – 2:00 pm
Freshens
Forbes Avenue – Power Center
Monday – Thursday: 10:00 am – 3:00 pm
Friday: 10:00 am – 2:00 pm
Subway
Brottier Hall – Shingiss Street
Monday – Friday: 10:00 am -10:00 pm*
Saturday: 10:00 am – 9:00 pm* | Sunday: 10:00 am – 8:00 pm*
* Hours subject to change without notice.
HOTEL ACCOMMODATIONS
Hotel Accommodations are also available at the Marriott Pittsburgh City Center, 112 Washington Place, Pittsburgh, PA 15219, telephone: 1-412-471-4000. Rooms are available at the special conference price of $149 per room per night, plus tax, for single or double rooms, up to occupancy of four per room. Make your reservation on or before May 28th, 2018 to get the special group rate.
LINK TO HOTEL ROOM BLOCK (forthcoming)
Amenities include free internet in all guest rooms. The property includes a business center, fitness center, pool, full service restaurant, bar. The Marriott is a non-smoking hotel. This hotel is within easy walking distance of Duquesne University, so guests staying at the Marriott can plan to walk up the hill to Duquesne University.
top of page

CANCELLATIONS
Requests received in writing at the CMAA Office (by mail or email) by May 15th will receive a refund less the nonrefundable $75 deposit. Refunds will be processed after the Summer courses have concluded. Any requests for cancellation after May 15th will only be processed if a replacement from the waiting list is able to take your place. Dormitory cancellations will be processed if Duquesne University approves the change.
top of page
CODE OF CONDUCT
Please note that all participants are expected to adhere to the CMAA Code of Conduct.