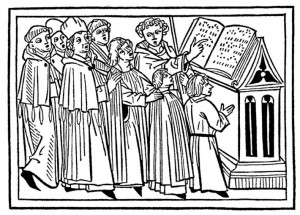 VOX CLARA ECCE INTONAT: GREGORIAN CHANT WORKSHOP
March 14-15, 2014
HOLY SPIRIT CATHOLIC CHURCH
733 James I. Harrison, Jr. Parkway East
Tuscaloosa, Alabama 35405
Workshop is in parish hall behind church.
For Whom: General public, especially those with musical and liturgical interests.
What: Introduction to chant. Reading Gregorian notation.
The parts of the Mass (Ordinary and Propers).
Introduction to singing the Ordinary of the Mass in English and Latin.
Chant hymns and chant resources.
Optional extra:
Singing Mass propers at 5:30 p.m. Mass on March 15th.
When: Friday, March 14, 1:00 – 5:00 p.m.
Saturday, March 15, 9:00 – Noon
(Optional extra: Afternoon session from 1:00 to 3:15 and singing at 5:30 Mass.)
Chant Mistress: The workshop will be presented by Arlene Oost-Zinner, director of the St. Cecilia Schola Cantorum in Auburn, AL. She has served as director of programs for the Church Music Association of America since 2006. She has taught chant at all levels for the CMAA's Sacred Music Colloquium, the CMAA Chant Intensive, and at workshops around the country. She completed her studies in Gregorian chant at the Catholic University of America, and has participated in master classes under leading chant masters of international reputation. She has written for the Catholic Answer, Crisis, Homiletic and Pastoral Review, Inside Catholic, and other publications. She is the composer and editor of the Parish Book of Psalms (CMAA, 2012) and translator & editor of Words with Wings (CMAA, 2012).
Cost and Registration: Registration is a snap. Just call or e-mail Deacon Adrian Straley at (205) 553-5296 or astraley@bellsouth.net. At sign-in, pay $10.00 by cash or check (payable to Adrian Straley) for all materials & Saturday lunch. Space is limited, so sign up now.