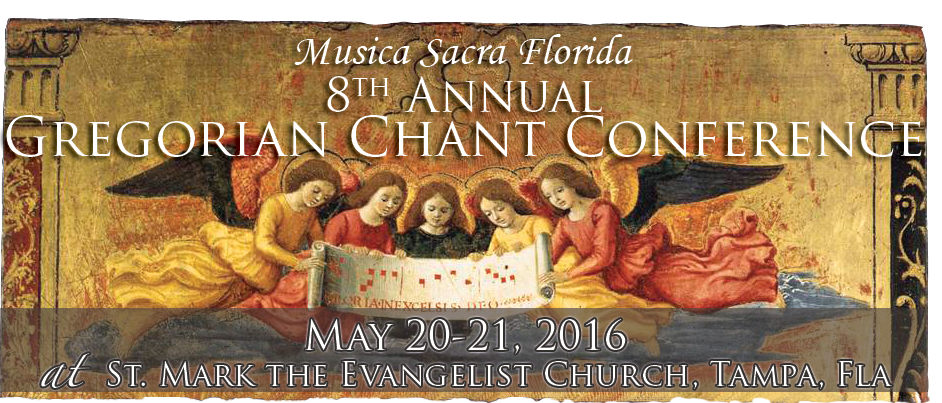 Musica Sacra Florida | 8th Annual Gregorian Chant Conference
Friday, May 20 & Saturday, May 21, 2016
at Saint Mark the Evangelist Church, Tampa, FL
The Florida Chapter of the Church Music Association of America (CMAA) is pleased to announce the 8th annual Musica Sacra Florida Gregorian Chant Conference.
NEW LOCATION!
This year Musica Sacra Florida will be moving from Ave Maria University to Tampa's Saint Mark the Evangelist Church, which is more centrally located within the state.
The Conference will include:
Workshops
"Gregorian Chant as the Basis for Choral Excellence" (Larry Kent) – This workshop will examine various ways that correct chant technique is an essential element in mixed choral ensembles, especially with regard to sacred music of the sixteenth century. Participants will work with excerpts of works by Byrd, Victoria, Tallis, and Palestrina.
"Starting with English Chant" (Mary Jane Ballou) – Pastor afraid of Latin? Likewise the choir? Start everyone off with chant in English. Deliver the texts proper to the Mass in English and surprise everyone with the beauty and simplicity of chant in English. We'll sing through a variety of offerings – office hymns, settings of propers and the Ordinary. We will discuss strategies for introducing this music and review the available resources, many of which are absolutely free. Resource list will be provided.
"A Guide to Square Notation" (Susan Treacy) – Are you mystified or intimidated by those little square notes? Fear not! In this workshop you will receive basic instruction on how to read Gregorian chant notation. Likewise, if you need a refresher course, come join us. We will sing short excerpts of chant in class.
"Basic Training in Chant for Priests & Deacons" (Fr. Patrick Hough, S.J.) – This workshop is ideal for priests and deacons who want to learn how to chant their parts of the Mass. Learn how you can inspire more active participation among the faithful and increase the beauty and efficacy of the liturgy through a sung Mass.
Chant Choirs
Scholae for beginning/intermediate (men & women), advanced men, advanced women
Masses
Opening Missa cantata in the Extraordinary Form on Friday evening. Music provided by the Florida Pro Musica Schola.
Closing Missa cantata in the Ordinary Form on Saturday evening (anticipated Sunday Mass) with English & Latin chants provided by conference participants
Registration
Register online at: Conference Details Page
Registration fees: $60.00 (including materials & instruction), $15.00 for full-time students (with ID) and children, $15.00 for Clergy.
Registration deadline: Friday, May 6th, 2016
For more information on the conference, contact Susan Treacy, Ph.D., at: cantatedomino@icloud.com | (239) 280-1668
Conference Faculty
Mary Jane Ballou, D.S.M. – Director of Cantorae Saint Augustine
Fr. Patrick Hough, S.J. – Jesuit High School, Tampa
Larry Kent, D.M.A. – Director of Florida Pro Musica, Tampa
Susan Treacy, Ph.D. – Ave Maria University
For more details about the conference, visit our CONFERENCE DETAILS PAGE