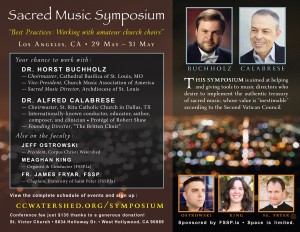 A Sacred Music Symposium will be held in Los Angeles from May 29-31, sponsored by FSSP.la (the Priestly Fraternity of St. Peter's LA Apostolate). The Symposium is especially designed for music directors and singers who wish to introduce the glorious treasury of Gregorian chant and polyphony to their parish, but are unsure how to begin.
The Symposium is a unique opportunity to get resources and practical advice from experienced choirmasters, conductors, composers and organists, while learning polyphony and plainsong from Dr. Horst Buchholz (Choirmaster of the Cathedral Basilica of St. Louis, Missouri) and Dr. Alfred Calabrese (Choirmaster of St. Rita Catholic Church in Dallas, Texas). The Symposium will culminate in an Extraordinary Form Solemn Mass, in which participants will sing movements from a Mass setting by Francisco Guerrero (d. 1599), one of Spain's greatest composers.
The fee for the Symposium is just $135. To register, visit http://www.ccwatershed.org/symposium where full details of the planned events are listed.
Download the Symposium flyer.