Colloquium Highlights
Extensive training in Gregorian chant under a world-class faculty, with choices of a chant class for beginners, a course on chant improvisation, refresher courses for men or women, and schola chant courses for advanced men or women.
Breakout sessions during the week on a variety of topics, from directing, organist master classes, chironomy, semiology, children's programs, among others.
Plenary lectures on topics of interest to all who love sacred music.
Optional choral experience with one of four choirs singing sacred music of the masters such as Tallis, Palestrina, Byrd, Purcell, Bruckner, Lotti, Mozart, Sweelinck, Stanford, Morales, Ingenieri and La Rocca. You'll learn with our gifted faculty, with choices of a beginning polyphony choir for those new to polyphony, or three choirs for more experienced singers.
Daily liturgies with careful attention to musical settings in English and Latin.
A gala welcome reception and dinner at the conference hotel.
Individual training in vocal production and technique.
Training for priests, deacons, and seminarians in the sung Mass (not restricted to clergy and seminarians).
All music, including prepared books of chant and polyphony, as part of registration.
Your own copy of The Parish Book of Chant, 2nd edition.
Book sales from the CMAA warehouse. We offer discounts on our books to all attendees and an extra 10% discount to CMAA members.
Three Venues
The Tuesday Colloquium Mass will be held at the Pro-Cathedral of St. John the Evangelist and Apostle; Wednesday, Thursday and Saturday Masses and Thursday Vespers will be held at the Shrine of St. Joseph in downtown St. Louis. On Friday, June 24th, Mass will be held at the Cathedral Basilica of St. Louis, followed by an organ recital.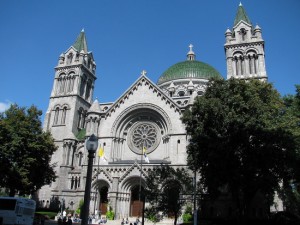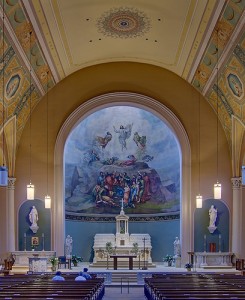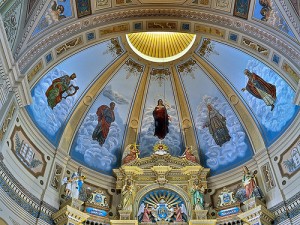 St. Louis is known as the "Rome of the West". Experience the beauty of the liturgy in three of St. Louis' most lovely Catholic Churches. From the spectacular mosaics of the Cathedral Basilica to the lovely and intimate Pro-cathedral to the lovingly restored Shrine, participants can enjoy the contrasts of these lovely churches while singing the Sacred Music of the Church.
Plenary Speakers
Dr. William Mahrt, CMAA President, Plenary talk: "The Music of the Psalms."
Most Rev. James D. Conley, D.D., S.T.L., Bishop of Diocese of Lincoln, Nebraska,  Plenary talk: "Foretaste of Heavenly Liturgy."
Rev. Jason J. Schumer, Kenrick Seminary, St. Louis, Missouri, Plenary talk: "How the Liturgy Grows: Is 'Organic Development' Fantasy or Reality?"
Faculty
Bro. Mark Bachmann, Choirmaster, Clear Creek Abbey
Dr. Mary Jane Ballou, CMAA Secretary, St. Augustine, FL
Wilko Brouwers, Monteverdi Choir, The Netherlands
Dr. Horst Buchholz, CMAA Vice President, St. Louis Cathedral
Mary Ann Carr-Wilson, St. Anne Catholic Church, San Diego, California
Charles Cole, Westminster Cathedral; Brompton Oratory, United Kingdom
Colleen Crafton, Ward Centre, Richmond, VA
David Hughes, St. Mary, Norwalk, CT
Dr. Ann Labounsky, Duquesne University
Dr. William Mahrt, CMAA President, Stanford University
Matthew Meloche, SS Simon and Jude Cathedral, Phoenix, AZ
Jeffrey Morse, Sacramento, CA
Dr. MeeAe Cecilia Nam, Eastern Michigan University
Rev. Robert Pasley, Mater Ecclesiae Catholic Church, Berlin, NJ
Jonathan Ryan, Concert Organist
Dr. Edward Schaefer, University of Florida
Dr. Scott Turkington, Holy Family Church and Holy Family Academy, Minneapolis, MN
Dr. Paul Weber, St. Martin of Tours Catholic Church, Louisville, KY
Organ Recital and Early Music Concert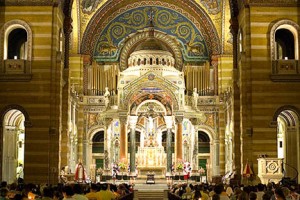 We are fortunate indeed to be able to enjoy an organ recital at the Cathedral Basilica of St. Louis on Friday, June 24th at 8:30 pm. Professor Dr. Jörg Abbing, of Saarbruecken, Germany will present a recital.
Recital Repertory:
Joh. Seb Bach/A. Vivaldi – Concerto in A minor
Cesar Franck – Fantasie in A major
Max Reger – Toccata and Fuge D minor/D major op.59
Maurice Duruflé – Prélude et Fugue sur le nom d'ALAIN
Abbing – Improvisation on a submitted theme
This recital will be open to the public. For more information about Prof. Dr. Abbing, please visit our Faculty page.
As a special treat, we will enjoy the lovely Early Music sung by Pro-Arte Saint Louis, a professional ensemble directed by Dr. Horst Buchholz. Pro-Arte Saint Louis is an early music vocal ensemble that performs works predominantly drawn from the Medieval and Renaissance eras, including Chant, Organum, and Polyphony, the underpinnings of all later music, performed in an historically and stylistically informed manner.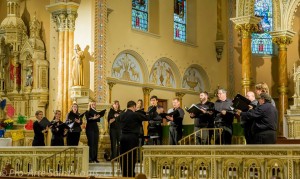 Their repertoire is comprised of magnificent, but not often heard, compositions as well as recognizable masterworks. This concert will be on Monday, June 20th, following the welcome banquet at 7:30 pm.
Liturgies
| | | |
| --- | --- | --- |
| Tuesday, June 21st | Mass, Pro-Cathedral of St. John the Apostle and Evangelist | St. Aloysius Gonzaga, Ordinary Form (OF), English |
| Wednesday, June 22nd | Mass, Shrine of St. Joseph | Ss John Fisher and Thomas More, (OF), Latin and English |
| Thursday, June 23rd | Mass, Shrine of St. Joseph | Requiem, Chanted, (EF) Latin |
| Thursday, June 23rd | Vespers & Compline, Shrine of St. Joseph | Vigil of St. John the Baptist, (EF), Latin |
| Friday, June 24th | Mass, Cathedral Basilica of St. Louis | Birth of St. John the Baptist, (OF) Latin |
| Saturday, June 25th | Mass, Shrine of St. Joseph | St. William Abbott, (EF), Latin |
Instructions for Clergy and Seminarians
Please download this instruction page for Clergy and Seminarians regarding participation in the liturgies of the Colloquium. Information regarding the vestment colors, as well as letters of good standing are detailed in the Instruction sheet. If you have questions, please contact us at programs@musicasacra.com.
INSTRUCTIONS FOR CLERGY AND SEMINARIANS

Breakout Sessions
Breakout sessions will be offered Tuesday – Friday on a range of various topics including:
Children's Programs
Organ Classes (including two Master Class sessions)
Conducting Series
Miscellaneous Topics
Clergy Training
New Music Series
Semiology Series
Parish Music Programs
Gregorian Chant Modes
NEW! Complete listing of Breakout Sessions, including descriptions 
Organ Master Class sessions
Once again, we are fortunate to have Dr. Paul Weber and Jonathan Ryan offering organ masterclasses this year.
Up to three organists may sign up for each session to perform a piece of their choosing and receive instruction from either Dr. Paul Weber or Jonathan Ryan, which, in masterclass format, will be designed to apply generally to all those attending. Participants may pre-register for one of these sessions by contacting us at programs@musicasacra.com. Moderate to difficult repertoire is encouraged.
Chant Course Descriptions
Fundamentals for Men and Women (Director, Jonathan Ryan): This course in Gregorian chant is intended for real chant beginners: both those who can read modern notation and those with no musical training. Participants will learn how to read the four line staff, the names of the neumes, and how to navigate the intervals with solfege. Rhythm will be introduced. Course material will include the Ordinaries of the Mass and two Propers.
Refresher (two sections: Jeffrey Morse, Men; Mary Ann Carr Wilson, Women): This course offers continued study in Gregorian chant and is intended for those who have had some background in chant but do not sing chant on a regular basis. This is a beginning to intermediate course whose primary aim, like the foundations course, will not be performance in liturgy. Participants will be responsible for singing the Ordinaries of the Mass and will be prepared to sing three or four chant Propers during the week.
Schola (two sections: Charles Cole, Women; Wilko Brouwers, Men): This course is intended for advanced singers who sing chant regularly. The two scholas (men, women) will be responsible for the bulk of the more difficult Mass Propers sung during the week.
Advanced Seminar on Vocal/Polyphonic Improvisation on Chant (Director, William Mahrt): This course is intended for advanced singers (both men and women) who wish to continue their studies of Gregorian chant. This class will focus on study rather than performance, including various types of improvisation on chant including organum, diaphonum, descant and Fauxbourdon, with the seminar preparing two Mass Propers.
Office Choir for Men and Women: (Scott Turkington) This course is intended for intermediate to advanced singers and will concentrate on the singing of the divine office, particularly Vespers psalmody on Thursday evening. This choir will also take the lead in morning and night prayer during the week.
Polyphonic Choir Descriptions
David Hughes: Beginning Polyphonic Choir
This choir is designed to introduce and improve on the critical vocal and musical techniques necessary for singing polyphonic music. Singers will learn how to carry a part on their own, independent of other sections, and without accompaniment. Members of this choir will learn rhythm, pitch, and vocal production. The choir is designed for novice singers who would not yet benefit from a more advanced choir, but it might also be useful for directors who wish to see how a master goes about teaching inexperienced singers to make beautiful music. One piece is a part of this choir's agenda: O Bone Jesu by Ingegnieri. This choir will sing at Mass on Saturday.
Wilko Brouwers: Palestrina Choir
The major piece this choir will sing under Brouwers' direction is the Missa Papae Marcelli by Palestrina, which will be sung at Mass on Friday, June 24th. Giovanni Pierluigi da Palestrina (3 February 1525 or 2 February 1526 – 2 February 1594) was an Italian Renaissance composer of sacred music and the best-known 16th-century representati v e of the Roman School of musical composition. He has had a lasting influence on the development of church music, and his work has often been seen as the culmination of Renaissance polyphony. One of the hallmarks of Palestrina's music is that dissonances are typically relegated to the "weak" beats in a measure. This produced a smoother and more consonant type of polyphony which is now considered to be definitive of late Renaissance music, given Palestrina's position as Europe's leading composer (along with Lassus) in the wake of Josquin (d. 1521). The "Palestrina style" now serves as a basis for college Renaissance counterpoint classes, thanks in large part to the efforts of the 18th-century composer and theorist Johann Joseph Fux, who, in a book called Gradus ad Parnassum (Steps to Parnassus, 1725), set about codifying Palestrina's techniques as a pedagogical tool for students of composition. This choir will also sing motets by Sweelinck and Purcell.
Horst Buchholz: Mozart Choir
The Mozart Mass in C Major K. 220 Sparrow Mass is the major work to be sung by this choir under Buchholz' direction. This orchestral Mass was composed by Wolfgang Amadeus Mozart in 1775 or 1776 in Salzburg. The Mass is sometimes termed a Missa brevis et solemnis, because it is short in a simple structure as a Missa brevis, but festively scored like a Missa solemnis with brass and timpani in addition to four soloists, strings and organ. It was possibly first performed on 7 April 1776 in a Mass for Easter at the Salzburg Cathedral. The nickname is derived from violin figures in the Hosanna which resemble bird chirping. This orchestral Mass will be sung as the final Mass of the week on Saturday, June 25th at the Shrine of St. Joseph. This choir will also sing motets by Tallis and Lotti during the week.
Charles Cole: Motet Choir
Cole's choir will sing a variety of motets during the week by various composers incuding: Byrd, Esquivel, Stanford, and LaRocca.
William Byrd (1539/40 – 1623), was an English composer of the Renaissance. He produced sacred music for use in Anglican services, although he himself became a Roman Catholic in later life and wrote Catholic sacred music as well. This choir will sing Byrd's Ego Sum Panis Vivus, and Sacerdotes Domini.
Juan Esquivel, a Spanish composer, was a pupil of Juan Navarro. Esquivel served as maestro de capilla at Oviedo Cathedral from 1581-1585, after which he was at the Calahorra Cathedral until 1591, moving to Ciudad Rodrigo Cathedral until his death. Esquivel was one of the most prolific, and also one of the finest Spanish composers of his time; his motets stand comparison with those of Victoria on the same texts. Esquivel combines old techniques such as cantus firmus ostinatos and canonic construction with the newer procedures: harmony colored by the use of accidentals, paired imitation in direct or contrary motion, climaxes in a high register for poignant texts, dramatic pauses and contracts of texture. This choir will sing Esquivel's Ego sum panis vivus.
Tomas Luis de Victoria (sometimes Italianised as da Vittoria; c.1548 – 27 August 1611) was the most famous composer in 16th-century Spain, and was one of the most important composers of the Counter-Reformation, along with Giovanni Pierluigi da Palestrina and Orlando di Lasso. Victoria was not only a composer, but also an accomplished organist and singer as well as a Catholic priest.  This choir will sing Jesu Dulcis Memoria, which has been attributed to Victoria, although it was probably a later composition.
Charles Villiers Stanford (1852-1924)  was an Irish composer, music teacher, and conductor. Born to a well-off and highly musical family in Dublin, Stanford was educated at the University of Cambridge before studying music in Leipzig and Berlin. Stanford composed a substantial number of concert works, including seven symphonies, but his best-remembered pieces are his choral works for church performance, chiefly composed in the Anglican tradition. Stanford's Justorum Animae will be sung by this choir.
The piece by Frank LaRocca is the composition O Sacrum Convivium, from his most recent album In This Place. Trained as an academic modernist during his degree studies at Yale and University of California, Berkeley, La Rocca came to see this approach as a barrier to authentic musical expression, and spent many years in search of a personal creative language. His catalog includes works in all genres, with an emphasis on a cappella sacred choral works.
Repertory
View the entire list of musical repertory that will be sung by chant and polyphony choirs for Colloquium XXVI:
Repertory by Choir
Repertory Plan
Palestrina's Missa Papae Marcelli
Mozart's Sparrow Mass
New Music
This year's breakout schedule includes three days of breakouts with David Hughes, where you'll be able to collaborate with other composers to fine-tune your compositions. Please bring at least 15 copies of the work you plan to use during the session for participants in the breakout. The best compositions from the New Music Breakout sessions will be used for the New Music Reading session on Thursday afternoon. New Music Participants: Please plan to provide digital pdf files from the compositions to the Colloquium for final printing before the Reading session.
The New Music Reading for this year's Sacred Music Colloquium is scheduled for Thursday, June 23, 2016 at 2:45 pm at the conference hotel.
If you have questions, please contact us at programs@musicasacra.com.
Schedule
To get an idea of the schedule of events, please see our Schedule of Events. This will give detailed information about the events of the week, including time and location.
NEW! For an overview, please see the Schedule at a Glance.

Scholarships
The CMAA is dependent on donations for scholarships. If you are interested in sponsoring a musician, priest or seminarian's attendance, please write to us at programs@musicasacra.com or make a donation to our Annual Fund. No amount is too small. All scholarship donations are applied directly to scholarships. If making a donation to the Annual Fund, you can also specify that your donation is to be used for scholarships. To make a donation to the Annual Fund, please use this form or make an online donation:
To apply for a CMAA Colloquium scholarship, please fill out the application form and scholarship recommendation form and submit them to us prior to April 7, 2016. All applications and recommendations must be received at our office by April 7, 2016. Send applications to us at: CMAA, PO Box 4344, Roswell, NM 88202. In order to process your application, we must have both forms received by the deadline. If you have not received confirmation that your application was received in our office by April 6th, please email us at programs@musicasacra.com to assure you don't miss the deadline. UPDATE: Scholarship deadline has passed.
Application Form
Scholarship Recommendation Form
Registration
REGISTER ONLINE NOW – LATE REGISTRATION
REGISTRATION FORM
ONLINE LATE REGISTRATION IS NOW CLOSED. Check or credit card payment must accompany registration. Registration and full payment must be postmarked on or before March 1st (Early Bird) or May 7th May 15th (Regular). Registrations postmarked after May 15th will be charged a $50 late fee. You may register online or by mail. If you wish to make installment payments for your fees, please use the mail-in form. Your registration is not considered complete unless accompanied by the $75 non-refundable deposit. Registrations must be received at the CMAA Office (by mail or online) by the close of business, June 7th. After June 7th, registration is only available by telephone by calling our office at (505) 263-6298 on a space available basis. Full payment must be made by the respective deadlines. UPDATE: We can no longer accept any more registrations.
Cancellation: Requests received in writing at the CMAA Office postmarked on or before June 7th will receive a refund less the non-refundable $75 deposit. After that date, refunds are given only in the form of a credit toward registration for the 2017 Colloquium. Refunds will be processed after the Colloquium. All requests for credit must be received in the CMAA office or by email (programs@musicasacra.com) by June 19th in order to be considered for credit. Late requests may only receive a partial credit, depending on charges to the CMAA for meals.

Member Discounts
With a current CMAA membership, the members' rate is available to you; it is not transferable to another person. If your parish has a CMAA parish membership, please note the name of your parish on your registration form.
Not yet a member? Join now and receive the benefits of membership for a full year for the same price as a non-member registration. Once your membership payment is received, you'll receive an email with information about the member discount code. Email us at gm@musicasacra.com for any questions.
Join the CMAA
Youth Participants
A parent or chaperone must accompany youth attendees under eighteen. The chaperone must be at least twenty-one years old and registered for the full Colloquium or as a Companion. A parental or guardian permission form and release must be on file with the CMAA before anyone under the age of eighteen may be admitted to the Colloquium, either by sending the completed form or by presenting it at registration. If the youth participant is not accompanied by a parent, a medical treatment authorization form must also be provided to the chaperone or guardian.
Daily Registration
Be sure to indicate the day(s) for which you are registering and note that the fee for full convention registration is usually less than the fee for multiple days. Daily registration is not available online; it must be done on the registration form.
Additional Information
Companion (Adult): Those registering as companions are welcome to accompany a full Colloquium registrant to all activities except breakouts and choir rehearsals. A separate registration form must be filled out for each companion including payment for any additional activities and must include the name of the Full Convention Registrant. Companion registration is not available online; it must be done on the registration form.
Arrangements for guests to attend meals may be made, but require at least 72 hours' notice. The opening banquet is included for all registrants with full tuition or companion pass.
REGISTER ONLINE NOW – LATE REGISTRATION
REGISTRATION FORM
Scholarship Assistance may be available for partial tuition for persons or parishes of limited means. To apply for a scholarship, please see information about scholarship applications above. Or request a packet from the CMAA office by calling (505) 263-6298. Application deadline is April 7th.
Photographs and Recordings: You are welcome to take photos and videos, but please do not use flash, especially during sacred liturgies.
We welcome private recordings during the Colloquium. In fact, amateur recordings are kept in a collection online by one of our members at this site, and are available for free access. If you do record a session or liturgy, please consider sharing your files with him so that others may hear them.
Contact us at programs@musicasacra.com for more information about sharing your recordings.
Conference Hotel
HOTEL ACCOMMODATIONS are available at the St. Louis City Center Hotel, 400 South 14th Street, St. Louis, Missouri, 63103, (314) 231-5007. Rooms are available at the special conference price of $109 per room per night, plus tax, for single or double rooms, up to occupancy of four per room. Make your reservation before May 30, 2016 to get the special group rate.
An early departure fee of $50 will apply. To avoid the early checkout fee, a 48 hours' notice of change in stay before check-in is required. The hotel is a non-smoking hotel.
Amenities include free internet in all guest rooms and discounted overnight self parking at $12 per day (discounted from $17/day). The property includes a fitness center, swimming pool, full service restaurant and bar.
To register for hotel accommodations at this special rate, access our event reservation page.
Are you interested in sharing a room with another attendee? A CMAA member has volunteered to assist with matching up potential roommates. If you would like to share a room, contact Barbara Manson at rooms@musicasacra.com. Please provide her with information including gender and dates of arrival and departure to assist in finding a likely roommate for you. Potential roommates will be put in contact with each other by request. Determining whether or not to share a room and any financial arrangements for payment will be your own responsibility.
Helpful Links
Curious about the Sacred Music from previous Colloquia? Listen to some of the sound files from previous years at this website: http://music.dierschow.com/Colloquium/
St. Louis Metro: It is amazingly easy to get to the conference for all air travelers. You can catch the train straight from the airport to the city at the low cost of only $4.00 from the airport to the hotel.
Directions:
From Terminal One (All Airlines except Southwest and a few regionals):
From the gate, proceed to the baggage claim area. While in the baggage claim area look for signage directing you to the Metro Link (With your back to the baggage carousels and facing the parking exits, it should direct you to your left).
Following the signs, you will take an escalator to an upper level. There you will be able to buy your metro link pass.
The signs will continue to direct you to the Metro Link platform.
All trains will be eastbound and should be taken to the Civic Center Station, which takes about 1/2 hour. Exit at the Civic Center station; the St. Louis City Center hotel will be across the street.
From Terminal Two (Southwest and a few regionals):
From the gate, proceed to the baggage claim area. While in the baggage claim area look for signage directing you to the Metro Link (It will look like you are heading to the parking garage).
Following the signs, you will cross the pick-up traffic lane at a crosswalk and take an elevator to an upper level. There you will be able to buy your metro link pass and board the train.
Take an eastbound train to the Civic Center Station (takes about 1/2 hour). Exit at the Civic Center station; the St. Louis City Center hotel will be across the street.
Shuttle Service
Do you prefer to take a shuttle? A local shuttle service has offered discounted rates for Colloquium participants — GO BEST Express Door-to- Door Airport Shuttle Service. Click here to reserve your airport shuttle ride to/from Lambert International Airport and your hotel. Our group has a discounted rate of $17 each way per person. Reservations MUST be made online using the link to receive the discounted rate. Standard rates ($22 one way) will apply for walk up reservations made on the spot.
Music Book
2016 Colloquium book–larger, high-resolution pdf (24 megabytes)
2016 Colloquium book–smaller, low-resolution pdf (10 megabytes)