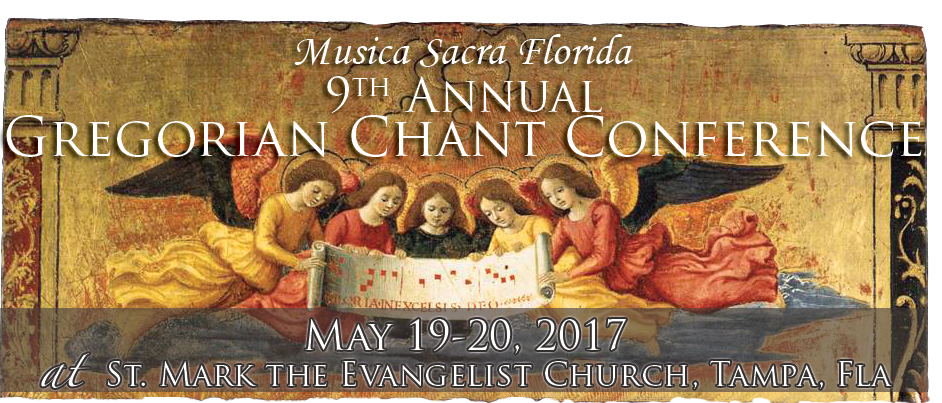 MusicaSacra Florida – 9th Annual Gregorian Chant Conference
Friday, May 19 & Saturday, May 20, 2017
at Saint Mark the Evangelist Church, Tampa, FL
The Florida Chapter of the Church Music Association of America (CMAA) is pleased to announce the 9th annual Musica Sacra Florida Gregorian Chant Conference.
The Conference will include:
Keynote Lecture
"Sacred Music in the Secular Sphere: Can Beauty Lead to the Good and the True?", Mary Jane Ballou, D.S.M.
Workshops
"Resources and Planning for a Parish Schola" (Edward Schaefer)
"From Square Notes to Round Gestures: How to Conduct Gregorian Chant" (Susan Treacy)
Chant Choirs
Scholae for beginning/intermediate (men & women), advanced men, advanced women
Masses
Opening Missa cantata in the Extraordinary Form on Friday evening. Music provided by the Schola of Epiphany of Our Lord Roman Catholic Church, Tampa, FL under the direction of Anders Bergmann.
Closing Missa cantata in the Ordinary Form on Saturday evening (anticipated Sunday Mass) with English & Latin chants provided by conference participants.
For all the details about the conference and how to register, visit:
MUSICA SACRA FLORIDA CHANT CONFERENCE PAGE