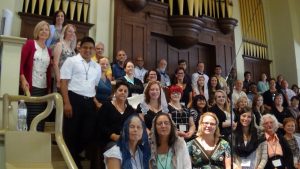 The fourth annual Southeastern Summer Sacred Music Workshop will take place in Charlotte, N.C., on Friday, July 27, and Saturday, July 28, 2018. This year's workshop is to be hosted by the Cathedral of St. Patrick, 1621 Dilworth Road East, Charlotte 28203.
Singers, organists, clergy, and laity alike will come from all over the Southeastern United States to learn and sing Gregorian chant and polyphonic music.
Participants will have the opportunity to join a chant group and motet ensemble of their choosing, from beginner to advanced. The event will culminate with a sung liturgy Saturday afternoon.
Breakout courses will be offered on a variety of topics of interest to music directors, singers, organists, and clergy.
The $75 registration fee covers all materials as well as a light breakfast and lunch on Saturday.
The complete list of faculty in alphabetical order:
Rev. Fr. Charles Byrd-Chaplain and Break-out session presenter
Gianfranco DeLuca-organ
Kevin Faulkner-Experienced Men's Chant Director
Tiffany Gallozzi-Chant Fundamentals/Novice Chant Director
Alex Hill-Break-out Session presenter
Tom Savoy-Polyphony Choir Director
Bridget Scott-Advanced Women's Chant Director
Voice instructors: Jonathan Eason and Maria McDaniel Willathgamuwa will be available for private lessons as well as presenting individual break-out sessions.
There will be numerous break-out sessions from which to choose, including: "Elevating Spanish Liturgy without Killing the Culture", "Getting the Most and the Best from a Small Parish Choir", "Why We Sing: The Historical Precedent for Liturgical Singers", "It's about the Future: Forming Children in the Faith Through Children's Choirs", Organ Master Class with Gianfranco DeLuca, and private voice lessons will be available.
Bishop Peter Joseph Jugis, JCD, Diocese of Charlotte, will be the principal celebrant and homilist at the concluding Mass.
Click to reserve a hotel room at the Courtyard Charlotte City Center at the group rate of $129 per night. To receive the group rate, reserve your room by June 27.
For all the details, including faculty bios, visit their website here: SOUTHEASTERN SACRED MUSIC
We hope to see you there!
Online registration and payment are available now. Participants may also pay by check, if preferred.